Leveraging AI to Drive Positive Student Outcomes
Celebrating the leaders and experts that are powering education into the future, host JW Marshall sets out to ask the "right questions" in EdTech to understand the changes in policy and technology that will power our universities, tradeschools, and companies – and drive growth in upskilling certifications.
The education system embraced technology more than ever before in the pandemic. A sector that had been slow to adopt experienced a substantial acceleration. But what's next for EdTech? Host JW Marshall discussed AI and AR with Paul Johansen, Chief Technology Officer at Edmentum. Edmentum offers a technology platform for curriculum and assessments as well as consulting. They currently work with over 8,000 school districts in the U.S.
Johansen is an 11-year veteran in the space and kicked off the conversation by talking about advancements pre-COVID. "The biggest change was the acceptance of EdTech and realizing it wouldn't replace teachers but enhance what they could do and give them better resources."
Once the pandemic hit, the company was stealth mode to release resources and consult with schools on implementing a virtual learning program, which many had never done.
Johansen and his team were already working on a new AI tool and soon released it. EON (Edmentum Online Navigator) is a digital assistant for educators in the Study Island platform.
"We took an automation focus to AI with the virtual assistant that uses natural language processing to make it easy as possible to get going. It streamlines what could take 30 to 90 minutes down to three to five."
The company also invested in augmented reality (AR) with apps like one for Biology. Johansen explained, "AR is taking what you see on a device and augmenting it. We want to reach students with richer opportunities."

Latest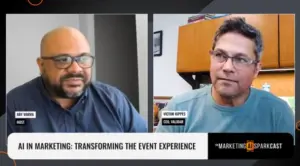 November 28, 2023
AI has been gradually changing the landscape of event technology at a very rapid pace. In an industry where staying ahead of technological trends is crucial, AI's impact on marketing and event management has become increasingly significant. As witnessed in the rise of account-based marketing and enhanced personalization, AI is effectively reshaping how events […]
Read More