Opting Out to Opt In: Harvard Medical Withdraws From U.S. News and World Report Rankings
Some things are changing in the higher education world. From #1 in research to #9 in primary care in the most recent U.S. News and World Report, Harvard's medical school is opting out of future participation in the list. Is Harvard alone? No.
As more top schools, such as Georgetown Law, UC Berkeley Law, and Yale Law, among others, opt out of the ranking system, what is making them leave? For Harvard medical, leaving means opting into student output and opting out of rankings. In other words, Harvard medical is putting the student first.
Harvard wants students to pick the school the works best for their individual, unique experiences. A ranking can't demonstrate how each student will fit into the environment. For more insight on this choice and the future of the workforce, Host of Future of Education, Michael Horn, provides his thoughts.
Michael's Thoughts:
"The biggest news right now in the world of Higher Education is Harvard Medical School's decision, I think to say they're no longer going to participate in the US News in World Report rankings. They're joining a course of law schools that have recently opted out of those rankings. And in my mind, this just adds to the backlash, if you will, against the US News and World Report rankings.
And while I thought that the reasons offered for some of the law schools leaving the ranking, were a bit empty and, I'm sure Harvard Medical School, some of this has to do with other currents as well. I will say, I thought the quote from their dean was right on the money, which was basically that a crude rankings list misses all the different contexts and motivations, and reasons that a student might choose a particular school, and that relying on rankings is frankly going to mislead them.
Because it's not gonna really correspond to their personal context and circumstances. And so ultimately you ought to be picking a school based on what works for you. And on the flip side, for employers and the like, trying to make sure that you're picking graduates based on what they can do, not where they went, I think is the ultimate best scenario.
So getting out of these ranking lists that are crude and focused obsessively on the inputs rather than the student outcomes, I think is a very good move."
Article written by Marissa Martin
Latest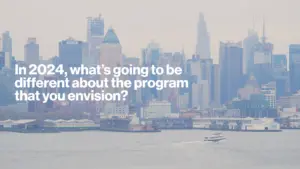 December 1, 2023
In the dynamic telecommunications landscape, Verizon's Partner Network continues to evolve, adapting to new trends and opportunities. For another segment featuring Mark Tina, VP of Indirect Channel Distribution and Channel Chief at Verizon Business Group, he explores exactly what types of significant changes and advancements the Verizon Partner Network will see in 2024. In this […]
Read More