Understanding the Substantial Math and Reading Learning Losses due to COVID-19
A brief released last week by Illuminate Education reveals substantial math losses in grades 5-8 and modest reading losses across grades K-8 as a result of COVID-19 disruptions. "The data show that we've reached a critical point. If we don't place greater emphasis on remedying losses now, achievement gaps are likely to widen later," said Dr. John Bielinski, Sr. Dir. of Research & Development at Illuminate Education. "Through regular screening, support, and practice, we can work to ensure students aren't left behind."
Earlier this year, Illuminate Education researchers reported projected learning loss due to disruptions in instruction from the pandemic. The new brief uses data from a national sample of students who completed FastBridge's Reading and Math assessments in fall 2020 and compared those results to a calculated baseline, which was established by analyzing more than one million previous fall screening administrations dating back to fall 2016.
By comparing the data sets, researchers were able to quantify actual fall learning loss Important highlights include:
● The disruptions caused by the COVID-19 pandemic have resulted in measurable learning loss. Researchers saw modest reading losses across grades K-8, modest math losses in early elementary grades, and substantial math losses in grades 5-8.
● Math achievement losses are substantial in grades 5 through 8. In grades 5 through 8 losses ranged from about three to four months. On average, students would have to grow at nearly twice the annual rate for three to four months to make up for these losses.
● Early reading loss is of great concern. First grade is the transition where most students begin to read connected text, making it critical that these skills be shored up quickly.
Download the brief here to view findings and recommendations for achieving catch-up growth: New Findings from Fall Screening: Data on COVID Learning Loss and Updated Recommendations for Instruction
Latest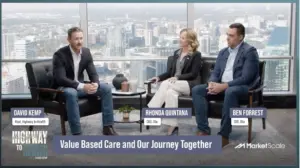 December 7, 2023
As of recent times, the healthcare industry has been progressively shifting towards value-based care, a model that emphasizes patient outcomes over the quantity of services delivered. This transition represents a significant shift that promises to enhance patient experiences and outcomes while controlling healthcare costs. With a growing emphasis on this approach, especially over the […]
Read More