Teaching the Arts from a Distance
Moosiko is an online, adaptive guitar learning platform for K12 schools designed to boost student engagement and make assessment easier for teachers. With over 220 modern, fun songs, Moosiko allows students to choose their own learning path and progress at their own pace. Their skills tracking, practice time visibility, and recording features provide data to teachers and administrators to help continually improve the effectiveness of their programs.
The company combines adaptive learning technologies, design, and audio engineering to create a modern and new approach to learning guitar. They strive to provide a personalized learning path for students while giving teachers superpower assessment capabilities. Their mission: to empower teachers to create a classroom where more students can participate in the joy of making music.
The company has a goal to help enable digital equity. To that end, they propose the following:
As a vendor providing tools, products, and support for the education industry, we believe the burden is on us to address equity in the classroom. Here are some things we do to make music education more equitable for both students and teachers:
Personalization: With our wide variety of musical genres and songs from the 1950s to today, we try to provide content for everyone.
Cross Device: Moosiko works on Apple, Android, and Windows devices as well as laptops, mobile, and tablets.
Multilingual: We've got a few Spanish-only songs. We're working on building more multilingual songs over the next few months.
Gender Equality: 30% of the artists on our platform are female. We've got some ground to make up here!
Visual: Moosiko is ~80% visual meaning we minimize written instruction to ensure non-english speakers can use our platform too.
508 Compliant: Use of multimodal information (colors, shapes, text, audio) to maximize accessibility.
Online & Offline: We are able to provide printed song sheets or digital PDFs to teachers or students when internet access is limited.
Latest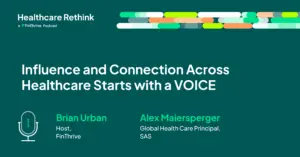 September 29, 2023
In the latest episode of the Healthcare Rethink podcast, presented by FinThrive, host Brian Urban sits down with Alex Maiersperger, the Global Principal Healthcare at SAS. Their conversation charts the role voice plays in influencing and connecting the healthcare industry. Maiersperger, who co-founded the Advancement League, shares his journey from being a healthcare optimist to […]
Read More