Technology's Role in Improving Teacher Effectiveness
The pandemic has had a tremendous impact on the way teachers engage with students, but also created a unique opportunity for teachers to leverage remote classrooms to improve teaching effectiveness.
JW Marshall hosted Adam Geller for an engaging conversation on enhancing teacher performance with individual and valuable feedback.
Adam Geller, founder and CEO of Edthena, is a former classroom science teacher with a passion for helping teachers engage students in the most beneficial way. By recording actual remote or in-person classroom sessions, Edthena analyzes teachers' techniques and provides helpful reviews to enable teachers to better educate their students.
"Any solution that we work to create that empowers teachers to learn faster and become better at their work must depend on technology that's readily available," said Geller.  Utilizing mobile technology that the majority of teachers have to enable this valuable feedback process to assist in enhancing teacher performance and student outcomes.
The COVID-19 pandemic has caused dramatic change in the educational space. A lot of educators are overwhelmed and fatigued by professional development with so many new ways of teaching during the pandemic.
Already being on video conferencing for remote teaching has made recording teaching sessions only one click away. This has massively reduced the barrier to collecting teaching observations that can be used for meaningful feedback.
"It's ok that you are who you are," said Geller. "The real reason of capturing that video is not to analyze what you're wearing… but to really have evidence that enables you to critically understand how you're doing in your professional role."
Technology has also facilitated a more streamlined method for teacher collaboration.  By enabling teachers to interact with each other, share learnings, and collaborate effectively, technology is helping teachers increase student engagement.

Latest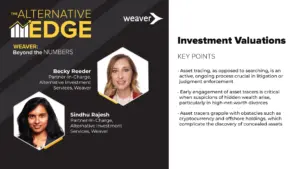 December 4, 2023
In this episode of The Alternative Edge, a Weaver: Beyond the Numbers Podcast, host Becky Reeder, an audit partner and co-leader of the alternative investments practice at Weaver, engages with Sindhu Rajesh, an Alternative Investment Services Partner with Weaver. They unpack the complexities of venture fund valuations, offering critical insights into industry dynamics and best […]
Read More