The Community & Culture Collective Month in Review
MarketScale is committed to covering the stories and trends that impact B2B industries. In this month in review, we take a look back at a few of the stories that had an impact in Education Technology and Business Services.
Featured Stories:
The pandemic has often been named as education's biggest disruptor. A catalyst for change, the pandemic highlighted failing systems along traditional learning pathways throughout the K-12 educational system. After co-founding a non-profit think tank focused on education disruption, education thought leader and author Michael Horn penned a new book entitled "From Reopen to Reinvent". With host JW Marshall, Horn discusses the unveiled dilemmas the education system is now facing.
In this report, corporate executives will get a full analysis of Starbucks' union avoidance saga since the return of Howard Schultz, detailing his strategies over the years, how he's putting them to work now, and how the consequences of taking an aggressive stance against Starbucks Workers United have impacted the company's brand and financials. Citing several retail and labor experts, this report will offer a pulse-check on why Schultz's tactics are being poorly received, and will distill these reactions down into actionable strategies for leadership to more proactively engage with union campaigns.
With two mass shootings in the news within days of each other, it is difficult to avoid the information about such violence. According to AP News, the devastation of the Uvalde, Texas, school attack killed 19 children and two teachers. Seventeen individuals were wounded before the gunman was taken down. This event is distressing, and it may be even more so for children. Just as adults do, children need the information to help them understand and cope with tragedy.
Latest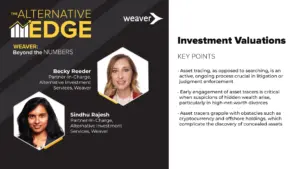 December 4, 2023
In this episode of The Alternative Edge, a Weaver: Beyond the Numbers Podcast, host Becky Reeder, an audit partner and co-leader of the alternative investments practice at Weaver, engages with Sindhu Rajesh, an Alternative Investment Services Partner with Weaver. They unpack the complexities of venture fund valuations, offering critical insights into industry dynamics and best […]
Read More