The Impact of EdTech Partnerships
Celebrating the leaders and experts that are powering education into the future, host JW Marshall sets out to ask the "right questions" in EdTech to understand the changes in policy and technology that will power our universities, tradeschools, and companies – and drive growth in upskilling certifications.
Voices of eLearning enjoys bringing success stories to listeners that demonstrate the power of technology, innovation, and opportunity. Host JW Marshall welcomed Anne Wintroub, Director of Social Innovation at the AT&T Foundation, and Maxeme Tuchman, CEO and Co-Founder of Caribu.
Wintroub leads the AT&T Aspire Accelerator program, which provides investments to early EdTech companies. She's been with the company for 10 years and previously worked with nonprofits in the space. Tuchman is a former 12th-grade teacher that started Caribu, an app that creates virtual playdates with interactive video calls that include books and activities.
"I got a text from Anne on that Sunday asking how AT&T could help. I was so grateful and thought AT&T could sponsor subscriptions, and they did with a $560,000 investment." – Maxeme Tuchman
Caribu was a recipient of the AT&T Aspire Accelerator program. Wintroub said, "The platform and Max wowed us."
Tuchman then shared how AT&T made a difference during the pandemic. She said that once they realized children would be out of school, they decided to go free, which was on March 14. In 24 hours, subscribers grew by 10X. "I got a text from Anne on that Sunday asking how AT&T could help. I was so grateful and thought AT&T could sponsor subscriptions, and they did with a $560,000 investment."
Wintroub and Tuchman both realize there's still a huge inequity in education, calling in not a gap but a canyon. Tuchman added, "It's not going to be solved by one company or technology but by many."
That' sentiment was the catalyst to launch Caribu. As a 12th grade teacher, she saw that these almost adults weren't ready for the real world, which started in early childhood development.
"It was a pipeline problem, and I knew I had to focus on early childhood literacy because we spend so much of our day reading. Every child needs equitable access to early childhood literacy experiences."


Latest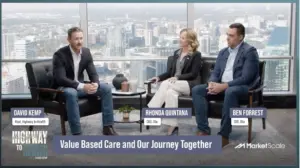 December 7, 2023
As of recent times, the healthcare industry has been progressively shifting towards value-based care, a model that emphasizes patient outcomes over the quantity of services delivered. This transition represents a significant shift that promises to enhance patient experiences and outcomes while controlling healthcare costs. With a growing emphasis on this approach, especially over the […]
Read More