The Need to Support Teachers During COVID: Remote Possibilities
While most of the focus is rightfully focused on students during this uncertain time, Adam Geller, CEO of Edthena, reminds us not to forget about the teachers. He talks with host Kevin Hogan about how his classroom observation platform for using videos as part of professional development is more important than ever.
To help educators adjust to a distanced teaching context, Edthena launched the #PLtogether projects located at http://pltogether.org. The site features a collection of free resources including the on-demand Kitchen Table Coaching training series as well as Lounge Talks with education thought-leaders.
Former classroom teachers lead the Kitchen Table Coaching series and cover a variety of topics including virtually coaching distanced teachers, facilitating distanced teacher collaboration, developing virtual coaching logs, and creating online training and coaching cycles.
The Lounge Talks are interviews with experts like Elena Aguilar, Deborah Ball, and Joellen Killion. The interviews are split into bite-sized clips focusing on the many challenges of teaching during COVID-19 and providing tactical "what now" advice for educators operating within this new reality.


Latest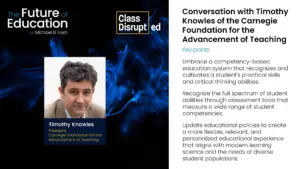 December 4, 2023
What approaches must education take in advancing teaching in a post-pandemic world? How can traditional education reshape itself to include a more dynamic, skills-based learning approach? As educational paradigms shift towards nurturing adaptability and critical thinking, leaders in the field are poised to redefine the learning framework to prepare students for a rapidly evolving […]
Read More