Transforming Educational Delivery for All
Celebrating the leaders and experts that are powering education into the future, host JW Marshall sets out to ask the "right questions" in EdTech to understand the changes in policy and technology that will power our universities, tradeschools, and companies – and drive growth in upskilling certifications.
Voices of eLearning brings audiences a wide-ranging interview with one of the biggest proponents of EdTech and education for all. Host JW Marshall welcomed Deborah Quazzo. Quazzo is Managing Partner at GSV Ventures and the Co-Founder of ASU+GSV Summit. Quazzo has been in the space for over 25 years as an investor, philanthropist, and evangelist.
"We need to educate the 70% of the population that doesn't have a college degree. They don't necessarily need a degree but some sort of skill mastery to maintain economic relevance. All people deserve access to the future." – Deborah Quazzo
"I always thought it was a category that deserved more investment because it was solving real societal challenges. Now seeing it come to fruition is a bit of silver lining of COVID with a rush of capital," Quazzo said.
One of the most important parts of her EdTech career is the Summit, which she founded in cooperation with Arizona State University (ASU). "It's a fantastic partnership, and we've been able to accomplish great things around the transformation of education delivery," Quazzo shared.
The 2020 event was only weeks away when the pandemic hit, which meant a quick pivot and postponement. They did hold the event virtually, welcoming over 15,000 attendees, representing 70% of the world's countries. The central theme—how to improve the delivery of education for all, and technology is moving that forward. There's still work to be done.
"We thought we had fixed the digital divide with schools wired, but we didn't solve it at home. Low-income students didn't have devices or bandwidth," Quazzo said.
That's changing, and it took the pandemic to put in more front and center.
Moving forward, Quazzo shared she thought the future was hybrid learning, as it could feel the individual learning gaps of all varieties.
The landscape of education goes beyond K-12, and some companies are stepping up to make this happen. "We need to educate the 70% of the population that doesn't have a college degree. They don't necessarily need a degree but some sort of skill mastery to maintain economic relevance. All people deserve access to the future."


Latest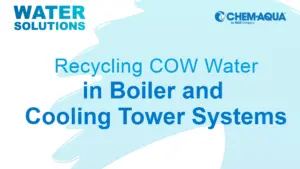 December 7, 2023
For the latest episode of ChemAqua's Water Solutions podcast, the focus was on an innovative approach to water conservation in the dairy industry. The show examined the potential of reusing Condensate of Whey (COW) water, a byproduct of dairy processing, and highlighted some of its economic and environmental benefits. Hosted by Dani Waddell, the informative […]
Read More