Yale's Most Popular Class Is Now Available Free Online
In the spring of 2018, the Yale psychology professor Laurie Santos unveiled a new course, Psychology and the Good Life. The subject was happiness.
Santos's course was a blend of abstract and concrete. It combined positive psychology with the real-life applications of behavioral science. It debunked popular notions of what makes people happy (like the luxury Mercedes-Benz status symbol) and helped students understand the habits they should build to lead truly happier, more fulfilled lives.
The course was launched in the U.S. — home to supposedly only the 19th-happiest population in the world, according to the 2019 World Happiness Report — at one of the nation's most elite and high-pressure colleges.
Read the full article on Entrepreneur.
Latest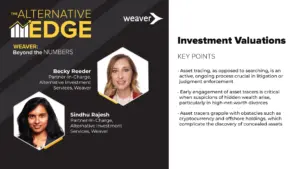 December 4, 2023
In this episode of The Alternative Edge, a Weaver: Beyond the Numbers Podcast, host Becky Reeder, an audit partner and co-leader of the alternative investments practice at Weaver, engages with Sindhu Rajesh, an Alternative Investment Services Partner with Weaver. They unpack the complexities of venture fund valuations, offering critical insights into industry dynamics and best […]
Read More