A Deep Dive into this Week's International Energy Complex
On the latest episode of Gasonomics, Tim Snyder of Matador Economics takes a deep dive into the recent week's energy complex.
The macro data is out: the consumer price index, producer price index, and retail sales for this time reveal new worries for a continuation of the numbers – and mean lower markets with higher interest. In the short term, Snyder predicts the discount rate to decrease while higher interest rates hit the market as it moves forward. But that's not all.
In global politics, the talk of the town is Russia's recent action: their suspension in participating in the New START treaty, which limits nuclear arsenals between the US and Russia. At the same time, China and Russia recently met to talk about peace plans for Ukraine – with many saying there are underlying interests at heart.
Interestingly, however, despite geopolitical friction, there is one source of energy that has helped the US curtail recession concerns for now: natural gas. As Snyder puts it, "Natural gas has given US energy security at a time when renewables couldn't fit the bill."
Natural gas prices are about 50% lower this year than same time last year. What has changed? Snyder says, "We did notice there was a small technical change in the natural gas prices, and here's a comparison: In February of 2022, the price of natural gas was 4.4310 and there were 17,082 billion cubic feet of natural gas in storage…on the same day this year, February 2023, the futures price showed a 2.2750…with 22,066 billion cubic feet of natural gas in inventory…"
This demonstrates, says Snyder, how natural gas has helped thwart an early recession for 2023, providing nearly a 3rd of total energy demand in the US. But, with threats to national security and new alliance development within the global system ongoing, Snyder says to look out for higher prices and the possibility of an economic recession.
Article written by Marissa Martin
Latest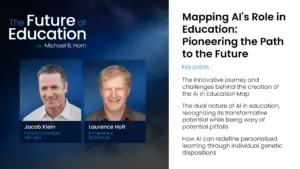 October 2, 2023
Mapping AI's role in education should be a critical step in bringing together innovative technology-based solutions with the expertise of human educators. With rapid advancements in artificial intelligence and an increased reliance on technology-driven educational solutions, the education landscape is on the brink of a significant transformation. AI promises highly personalized learning experiences, efficient administrative […]
Read More