Are Oil and Gas Companies Leveraging ESG Strategies Enough?
Key Points:
Oil and gas companies are starting to center ESG strategies.
They are using these strategies for future investments.
There has been a lot of effort from companies to embrace sustainability.
Commentary:
It is no mystery that the world is trying to become more green in its energy usage. Oil and gas companies are starting to center ESG strategies for future investments, and right now, there seems to be a lot of available capital on the surface. Are enough resources being put into green transition efforts as a whole, though? We sourced Jimmy Jett, CEO of Integrity Biochem, for perspectives. He breaks down not only his take on the energy industry's sustainable investments, but how
To act as a stopgap while technologies like wind and solar generation gain enough investment to be a viable and scalable energy alternative, companies are turning to individual products to improve smaller portions of their carbon footprint. Even with a hot market for green energy products ready for new business, what about the companies who want to take green technology to market but just aren't producing enough capital? What sort of strategies could they implement to make their product more commercially viable without reducing the quality or green impact?
Abridged Thoughts:
I think you're seeing a solid effort made by the industry, especially on the sustainability side. It's tricky because there's been a lot of capital that has been pulled back after the last downturn. You're starting to see a lot more money in your end of the market, as the industry kind of realizes that there's a lag between eliminating oil and gas in the energy pipeline as opposed to improving the way it's produced.   
And so I think you're going to see more money put into it. But as a percentage, I would say that all the companies that we work with in the space are very dedicated to sustainability efforts, and it's good to see. But as capital comes back into the energy space, I think you're going to see a more focused effort. Energy is always going to be a point of discussion because it's what the world runs on. 
More Stories Like This:
Latest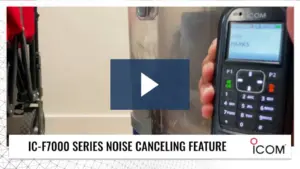 September 27, 2023
In this brief product demonstration video, ICom's IC-F7000 Series receives a mic test of its noise-canceling feature. Through the two demonstrations it is clear the IC-F7000 removes loud ambient noise for clear two-way communication.
Read More