Clean Energy Sector Rebounds, but Talent Shortage Looms Ahead
The clean energy industry has made an impressive recovery, reclaiming over 75 percent of the jobs lost during the COVID-19 pandemic. This resurgence signals a return to rapid growth, with the clean tech sector experiencing a remarkable job growth rate of over 5 percent in 2021.
The Inflation Reduction Act, enacted into law last year, is set to make a substantial impact with its provision of approximately $370 billion in subsidies for solar, wind, and electric vehicles. According to an analysis conducted by BW Research on behalf of The Nature Conservancy, these investments have the potential to create nearly 537,000 jobs each year for the next decade.
However, amidst this growth, the industry is grappling with a talent shortage. Companies are facing significant challenges in filling job vacancies due to fierce competition, a limited pool of qualified applicants, and a scarcity of workers with specialized training and technical skills.
To address the pressing talent shortage, organizations are actively developing focused talent attraction strategies in the short and long term. Efforts to enhance worker training programs, provide incentives for career development, and create pathways into the clean energy industry are underway, ensuring a sustainable and skilled workforce to meet the growing demands of the sector.
As the clean energy industry continues to thrive, it is crucial to prioritize investing in talent to propel the sector forward and build a greener and more sustainable future for all. But, what are talent recruiters looking for exactly? Corinna Frye, National Head of Renewable Energy & Clean Technology at LVI Associates notes that the clean tech industry is experiencing a shift in hiring practices, with employers becoming more flexible in considering candidates without traditional qualifications and valuing transferable skills and passion for the sector more frequently.
Corinna's Thoughts:
"When discussing the skills and experience necessary for careers in clean tech, there has been a significant shift in recent years. Previously, companies had the luxury of being selective due to limited job opportunities, demanding candidates who perfectly matched job descriptions. However, the situation has changed. While certain areas, particularly software, and cybersecurity, may still require specific qualifications, there is now increased flexibility in project-based engineering roles. This shift is driven by two factors. Firstly, emerging technology areas like electric vehicles and battery energy storage have limited talent pools, prompting companies to consider candidates with different backgrounds. For example, some clients have begun hiring engineers with extensive practical experience but lacking formal engineering degrees. Secondly, employers are recognizing the value of transferable skill sets and soft skills, alongside a genuine passion for the sector, as indicators of potential success and long-term retention. Consequently, engineers seeking a change in technology or project scale are encouraged to seize opportunities. Although the traditional chicken-and-egg dilemma persists, where large-scale project experience is often sought after, employers are increasingly willing to evaluate candidates holistically and recognize the advantages they bring beyond specific experience. This blurring of boundaries between traditionally separate areas of the industry is becoming more prevalent, opening doors for engineers to explore new opportunities."
Latest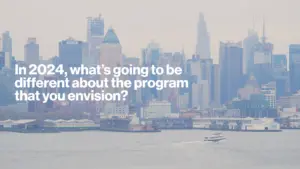 December 1, 2023
In the dynamic telecommunications landscape, Verizon's Partner Network continues to evolve, adapting to new trends and opportunities. For another segment featuring Mark Tina, VP of Indirect Channel Distribution and Channel Chief at Verizon Business Group, he explores exactly what types of significant changes and advancements the Verizon Partner Network will see in 2024. In this […]
Read More