Defense In-Depth: Cybersecurity For Energy
Despite ongoing threats and a massive wake-up call in 2021, the oil and gas industry doesn't appear to be ready for the increasingly dangerous cybersecurity threats present in the world. The Colonial Pipeline ransom attack in June 2021 cost the company $5 million in ransom, created supply chain shortages, and fueled price hikes while causing market uncertainty.
And with a lack of cybersecurity standards at the federal level, the oil and gas industry is vulnerable to future incidents. A recent bill hopes to address cybersecurity protection measures by requesting that the Federal Energy Regulatory Commission (FERC) create mandatory cybersecurity standards for the power, utility, and energy sectors. 
Even while this is taking place, the sector cannot sit idly by while waiting for federal standards to materialize. E2B: Energy to Business host Daniel J. Litwin spoke with Glenn Hartfiel, Principal, and Geoff Yut, Consultant, in Opportune LLP's Process & Technology practice about current best practices to create and implement better cybersecurity solutions and strategies.
Yut explains, that as a baseline, it was difficult to predict what an organization doesn't know might already be lurking in its network. He recommended that routine assessment of one's attack surface and evaluating cyber risk exposure through third-party connections or vendors is critical.
"I think it's important to remember that firms can't protect what they don't know that they have," Yut says. "So, it's important to regularly assess your attack surface and evaluate your exposure to cyber risk through those third-party connections or vendors."
Hartfiel mentions there are some things companies can do on their own to mitigate their risk of a cyberattack such as implementing multifactor authentication, geo-blocking IP addresses outside of the U.S., installing malware scanners, and giving permission to select people within the organization who are trusted with access. The other big piece of advice that Hartfiel finds himself stressing to energy clients and the industry is educating people on best practices of cybersecurity.
"That is the biggest one that I stress is educate your users not to open attachments," Hartfiel says. "They don't know who they came from, right? That's the weakest link in any company…to have somebody open up an email and then click on something and they have a rootkit installed or a malware virus that then can go out and attack the whole network."
The age-old phrase "go big or go home" is why oil and gas and other energy-related industries become targets of hackers. These attacks make big headlines and can result in huge paydays. They can also create widespread panic if a grid goes down or a pipeline operation shudders. And when it comes to making the proper cybersecurity modifications and ensuring infrastructure is sound and up to date to handle such operational risks, there are no shortcuts.
"It takes at least 12 months to do upgrades and not cause any major impacts," Hartfiel says.
The process is something that will likely need budgeting over some time. But since hackers wait for no one, the time for companies to strengthen their cybersecurity measures to make it harder for the next cyberattack is now.   
Latest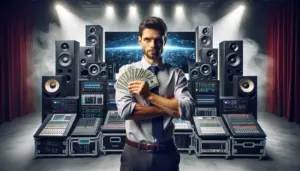 December 8, 2023
Mastering AV sales strategies in a global professional audio-visual (Pro AV) market, poised to reach $79.2 billion by 2028, requires much attention to detail. The surge in demand from corporate, government, and institutional sectors, driven by the need for enhanced productivity and efficient working environments, gives AV sales pros a lot of opportunity. In […]
Read More