ESG: Building Sustainable Supply Chain Management
Environmental, social, and governance (ESG) factors are no longer "just" a communications strategy—it's a strategic imperative and a coming regulatory requirement for businesses to thrive in a rapidly changing and increasingly transparent global economy. In this episode of E2B: Energy to Business, host Daniel Litwin caught up with Patrick Long, Director in Opportune LLP's Process & Technology practice, Randy Whitaker, CFO and Co-Founder at Viridis Chemical, and Bhavesh Patel, Senior Manager Strategic Projects at HELM AG – Americas, to discuss the state of the chemical supply chain today and how ESG can serve as a guiding beacon for creative solutions and effective change for years to come.
For Viridis Chemical, a leading producer of renewable ethyl acetate, a solvent widely used for making paints, varnishes, lacquers, cleaning mixtures, and perfumes, it's noticing that many of its manufacturing partners are wanting their products to be more sustainable.
"What we're seeing is those products that are closer to the ultimate consumer probably are more rapidly achieving higher sustainable levels than those that are using ethyl acetate as a solvent for something that's not quite so close to the consumer," Whitaker says.
On the distribution side, Patel of Hamburg, Germany-based HELM AG says his company's partnerships with suppliers and the consumer require the facilitation of knowledge and expertise to ensure core values of trust, collaboration, and support come through within its ESG strategy.
"We have operated in that manner for a long time, and that's why if you look at some of the employees that we have, they've stayed with the company a long time," Patel says. "You want to ensure the future of your workforce, but also secure it in a way that you continue to have your company be a sustainable place to be from a business standpoint."
In March 2021, Viridis Chemical and HELM U.S. Corp. announced an exclusive global marketing partnership for the purchase and sale of USP grade bio-based ethanol and bio-based ethyl acetate to be produced at Viridis Chemical's manufacturing plant in Columbus, Nebraska. HELM assumed the exclusive responsibility for global sales, marketing, and logistics management for both of Viridis Chemical's products.
Reasons companies focus on ESG stems from government or regional policies and financial opportunities. Another aspect, Long points out, is because of employee-led initiatives. "Employees want to work for companies and feel good about it," he says. "And investors play a significant role in influencing businesses to work on their ESG strategies."
In Europe, where HELM AG holds a large footprint, Patel said they actively want to participate and get involved with environmental projects voluntarily. These third-party validation areas highlight HELM's commitment to sustainability and add to its ESG strategy.
"For us, the push is internal," Patel says. "It's coming from our owners saying, 'We want to do this. We want to be responsible and leave the world a better place.'"
So, when does ESG graduate from being a focus of needing to make sure goals are hit to just being an inherently core metric of success for companies involved in the chemical supply chain?
"I don't think the concepts or fundamentals of ESG are going to ever go away," Whitaker says. "They make take slightly different names, or they may take a slightly different shape over time as the expectations evolve and the requirements evolve, and the regulations become more pronounced. But I think it's here to stay and it's being driven by those who have ideas and core values that align with the principles of ESG." 
Latest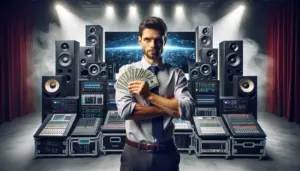 December 8, 2023
Mastering AV sales strategies in a global professional audio-visual (Pro AV) market, poised to reach $79.2 billion by 2028, requires much attention to detail. The surge in demand from corporate, government, and institutional sectors, driven by the need for enhanced productivity and efficient working environments, gives AV sales pros a lot of opportunity. In […]
Read More