Home Automation and Energy Management Make a Powerful Team
Companies like PanTech Design rely on marketing agencies such as One Firefly to help them bring their solutions in home automation and energy management to a market that's gaining momentum every day.
Ron Callis, Founder and CEO of One Firefly, joined Troy Morgan, Founder and CEO of PanTech Design, to discuss today's home automation and energy management trends.
"Once you connect an energy system to a home automation system, you achieve a device-level type of control," Morgan said. "You can change the dynamics of the whole energy profile of the home by telling the home automation system it's time to do something, and that home automation system decides what to do."
According to Callis, now is a perfect time for home energy companies to enter the home automation market.
"We see well-known brands across the country starting to fully get behind home energy management as a category of discussion. They're moving product and integrating it into their projects," Callis said. "I certainly see the market growing quarter over quarter."
With consumers showing a lot of interest in battery storage and other home energy management solutions for their homes, are businesses ready to meet those needs?
"Consumers are the ones driving the questions to the developers, the builders, the architects and the people they are working with to build their dreams in terms of their homes," Morgan said. "And it's that, I think, that is driving the contractors to learn more and start to look for products that can accomplish what consumers are asking for."
A customer may want to have a continual power supply available for their home in case of an outage. But achieving that may not be cost-effective, which is the challenge the industry needs to solve. Companies such as PanTech Design are helping people to accomplish these goals with real technology solutions.
Follow us on social media for the latest updates in B2B!
Twitter – @MarketScale
Facebook – facebook.com/marketscale
LinkedIn – linkedin.com/company/marketscale
Latest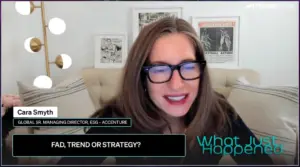 November 30, 2023
The world is in an era where sustainability and responsible retail business practices are increasingly crucial. For the latest episode of "What Just Happened," host Christine Russo further explored the hows and whys of this pressing issue by interviewing Cara Smyth, Global Senior Managing Director for ESG and Responsible Retail at Accenture, and Chair […]
Read More