Partner Highlight: Steven Toups and Cleargistix
On this episode of Microbes At Work by JGL Solutions, we're introducing you to Cleargistix, an excellent partner of JGL Solutions whose mission is to transform the oil and gas industry.
Cleargistix and JGL Solutions share the same goal of providing innovative, sustainable and effective solutions to oil and gas organizations.
Host Tyler Kern talked with Steven Toups, President, and CEO of Cleargistix, which helps oilfield companies that are tired of dealing with paper tickets and other spreadsheets and paper forms save costs, shorten cash cycles, improve efficiencies and get real-time information about what is going on in the field.
Cleargistix was founded with the mission in mind of helping oil field companies become more efficient and effective through digital technologies. The hope was to help eliminate the use of paper in the field. Working as CFO for an oil company in Midland, Texas, Toups saw firsthand the use of paper to document activities in the field, and it led him to unearth the idea for Cleargistix.
"Dealing with all this paper caused a great amount of inefficiencies," Toups said. "I tried to find something our folks could use that had three very important criteria: it had to be flexible, it had to be very configurable and work the way we worked, and it had to be very easy to use, very field user-friendly. Ultimately, that was going to define the success of any project. I really couldn't find anything. That experience, indirectly, led to the founding of Cleargistix."
Cleargistix has been an incredible partner for JGL Solutions, optimizing our processes digitally in the field and the lab. Listen to hear more about Cleargistix and how they're leading the way in the digital transformation of the oil field.
Follow us on social media for the latest updates in B2B!
Twitter – @MarketScale
Facebook – facebook.com/marketscale
LinkedIn – linkedin.com/company/marketscale
Latest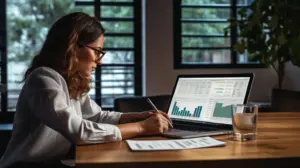 October 4, 2023
The intersection between security and financial acumen often gets overshadowed in a constantly changing economic landscape. While security is essential for safeguarding assets and ensuring continuity, its perceived monetary value is mired in misconceptions affecting company profitability. For many, security is viewed primarily as an expense rather than a potential cost-saver. However, understanding […]
Read More