The Anatomy Of M&A: Why Effective Asset Integrations Bring Deals To Life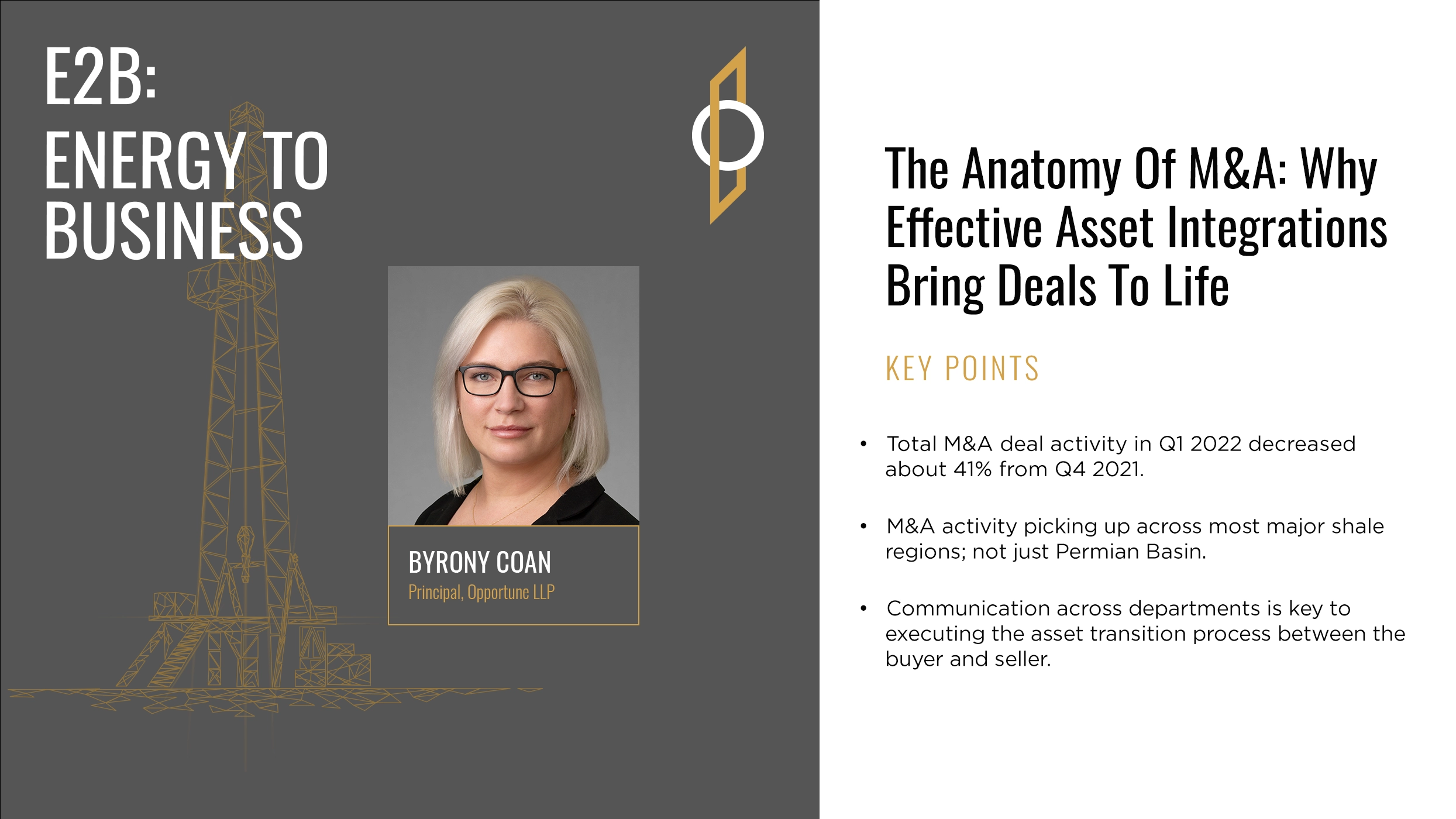 The momentum of total oil and gas M&A deals from the latter part of 2021 didn't carry into 2022 as deal activity tapered off in Q1 2022, according to GlobalData statistics. In Q1 2022, the oil and gas industry saw $59 billion worth of deal volume, down by about 41% from Q4 2021. The upstream oil and gas sector contributed to the highest aggregate M&A transaction value of $21 billion in Q1 2022, driven primarily by the shale theme and strengthening commodity prices.
In this episode of E2B: Energy to Business, host Daniel J. Litwin caught up with Principal Byrony Coan to discuss why M&A activity is slowing so far this year compared to last, what goes into an asset transition, and what companies can do to prepare for M&A transitions going forward.
"The theme really has been consolidation," Coan says. "People are trying to make sure their portfolios are focused in a particular area."
Coan pointed to announced mega-deals in the quarter such as the merger of Oasis Petroleum and Whiting Petroleum, as well as subsequent deals such as Loredo Petroleum, a driller focused on the Eagle Ford Shale in South Texas, reportedly considering a sale of the company worth $1 billion; EP Energy having sold its Uinta Basin assets to Crescent Energy for $815 million; ExxonMobil selling its Barnett Shale assets to BKV Corp. for $750 million; Centennial Resource Development recently merging with Colgate Energy Partners III in a $7 billion deal; to name a few.
"I think a lot of people focused on the Permian Basin because of the logistics and getting things out of the Permian have now shifted back to other shale plays," Coan says. "I think the interest beyond the Permian is a lot higher than it used to be."
The upstream industry deals with asset and entity integration and requires plenty of moving pieces across the board. Often, companies flounder with communication between groups—people aren't clear on how to navigate integration. Making it to the closing table is important but activities post-closing are critically important as Coan and her team often must help companies define who is doing what when a merger agreement is consummated.
"The people that negotiate the deal often aren't clear what the TSA [transition service agreement] period looks like or who is going to be performing what services in an interim time," Coan explains. "Getting that as defined as possible is huge."
Thankfully, asset integration hasn't changed much given the current macro environment the oil and gas industry currently faces.
"A lot of it has to do with how the assets have been historically managed, where they store the data, and how quickly can they get it transitioned from buyer to seller," Coan says. "There are so many moving pieces across a lot of different areas in a firm."
Latest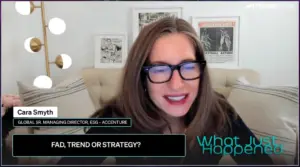 November 30, 2023
The world is in an era where sustainability and responsible retail business practices are increasingly crucial. For the latest episode of "What Just Happened," host Christine Russo further explored the hows and whys of this pressing issue by interviewing Cara Smyth, Global Senior Managing Director for ESG and Responsible Retail at Accenture, and Chair […]
Read More