Surviving Supply Chain Disruption During a Global Pandemic
In this episode of Trillium Flow Technologies' FlowCast podcast, host Hilary Kennedy sat down with Webster Madole — who serves as Senior Vice President of Global Operations and Supply Chain at Trillium — to discuss what factors are crucial for supply chain execution during times marked by unpredictability and constantly changing conditions.
Madole, whose work in supply chain totals 25 years, explained to Kennedy that — between supplier execution, labor issues, and material availability — there is no playbook for running a perfectly executed supply chain. "One great way to mitigate [never having a perfectly executed supply chain] is to [make sure it is as] robust [as possible]," he stated.
Accordingly, when Kennedy asked what defines a robust supply chain, Madole explained that it is not a one-size-fits-all situation.
"Certainly [one crucial factor is] the number of suppliers you have. Are you sole-sourced?" he asked rhetorically. "Or did you have the foresight to have secondary and tertiary suppliers in place that could handle those capabilities? Have you developed production parts with them?"
He also added that the location of a supply chain, specifically having local and regional options, can help solve many of the previously addressed challenges.
In addition to a robust supply chain, Madole discussed the importance of leveraging the customer relationship, especially through the supply impact. "When these challenges [such as COVID] come, [companies need to consider] the ones [who are hurting most]: our customers. They're the livelihood of our business. They're number one — it doesn't matter if it's good times, bad times, or typical times."
Madole emphasized the importance of engaging customers during such times. "If you engage them, it's really surprising what can come from that," he said. "If you can explain to them the complexities and all the leverage you are pulling, and you can still execute supply chain [to at least a degree,] it really can create a partnership that pays for years."
Tune in to the podcast to hear more of Kennedy and Madole's conversation, such as how Trillium reacted quickly and precisely amid the pandemic, the importance of having a relationship with suppliers, and other unique matters that are cropping up during this unusual — and critical — time in supply chain history.
Latest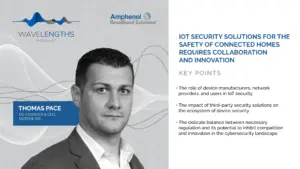 November 28, 2023
Since the introduction of smart devices, the world has increasingly become dominated by interconnected devices but IoT securitydemands are also growing. The "connected home" has shifted from what was once a futuristic concept to reality. With the global smart home market projected to reach $135.3 billion by 2025, the conversation around the security of these […]
Read More