FlowCast: Termomeccanica Pompe Joins Trillium Flow Technologies
David Paradis, CEO of Trillium Flow Technologies, joined host Michelle Dawn Mooney to make an exciting announcement. Trillium recently completed the acquisition of Termomeccanica Pompe. Termomeccanica is a 110-year-plus company from Italy that offers an extensive range of highly engineered vertical turbine and split case pumps used in water transmission, desalination, power generation, and the oil and gas markets. They also operate a solution-oriented, rotating equipment service organization serving the Middle East and Europe.
Termomeccanica Pompe will merge with another longstanding Italian Trillium-owned company, Gabbioneta Pumps. Paradis couldn't wait to bring together these two legacy pump manufacturers with incredible people and products.
"Termomeccanica Pompe is a business we've had our eye on for quite some time," Paradis said, "It really fits our M&A strategy around highly engineered products with great aftermarket opportunity and nice recurring revenues. It's a brand and a product that creates stickiness with our customers."
Termomeccanica Pompe's entrepreneurial spirit and focus on customers made it a natural fit for Trillium's culture.
"Termomeccanica Pompe has expertise in engineering products for specific applications, and we like that," Paradis said. "That's complimentary to our configured product. Gabbioneta is more engineered to order and Termomeccanica Pompe is more designed to order."
Termomeccanica Pompe's turbine pump product line also broadens the existing range of Trillium's Floway brand. They specialize in larger and higher-capacity pumps with engineering know-how and testing capabilities. Paradis said this extension instantaneously upgrades Trillium's offerings. In the space occupied by Gabbioneta, Termomeccanica Pompe opens the water vertical, which provides a crucial market opportunity.
"We like Termomeccanica Pompe's core markets," Paradis said, "They grew up in water applications and desalination applications. We're going to continue doing more of that. They also have some great technology that they're about to launch into those applications. They also have an opportunity to move more into mining. We have a strong position in mining with our Floway brand, and there are some great applications for larger capacity pumps in mining."
Latest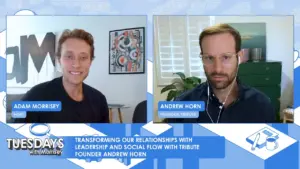 November 28, 2023
Can relationships be transformed through leadership and social flow? Navigating the intricate web of digital relationships can be a tricky proposition. Tuesdays with Morrisey's Adam Morrisey uncovers the transformative impact of emotional recognition in the workplace with Andrew Horn, the mastermind behind Tribute. This podcast edition unravels the story of a platform redefining how […]
Read More