The Benefits of Airborne FTG for Mapping and Surveying Work
Although the pandemic is still raging, Scott Hammond, President and CEO of Bell Geospace, knows there are essential mapping and surveying projects that need completion.
Now might be the perfect time to employ a cost-saving method like airborne FTG to get these projects back on track.
"We fashion our airborne FTG as a low-cost alternative to 3D seismic surveys," Hammond said. "The FTG surveys are much more reasonably priced than seismic. They bring a different result to the table, so I'm not saying they replace seismic, but in many cases, we work together with seismic. You can take FTG and put it together with 2D seismic and come up with a perfect answer that gets very close to the value of 3D."
And, with results approaching 3D but at a fraction of the cost and crew needed to run a 3D seismic operation, Hammond believes customers looking for results and savings during the pandemic should seriously consider FTG.
Speed is another consideration for utilizing FTG in survey and mapping work.
"Not only is FTG cheaper, but it's also something that people can get in their hands much more quickly," Hammond said. "There's been a lot of months ripped off the calendar due to the pandemic. People need FTG, because they have deadlines and commitments for their properties that needed evaluation, and those deadlines didn't go away, even though they lost three months in the process. We cannot only provide the information they need at a great price, but we can do it pretty quickly."
Follow us on social media for the latest updates in B2B!
Twitter – @MarketScale
Facebook – facebook.com/marketscale
LinkedIn – linkedin.com/company/marketscale
Latest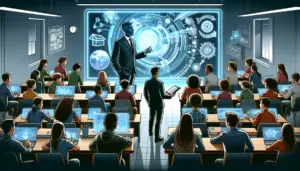 November 27, 2023
In an era where education stands at the crossroads of tradition and innovation, the potential value of thought leadership becomes the guiding star for progress. "Just Thinking" dives into this potential with host Kevin Dougherty and guest Evan Edwards, a Professional Learning Specialist at 806 Technologies who exemplifies the transformative impact of visionary guidance […]
Read More