The Impact of Energy Blackouts on Facility Management
They say that everything is bigger in Texas, which seems to include the demand for electricity this summer. According to the Electric Reliability Council of Texas, Electricity use on the main Texas grid is estimated to peak at nearly 80 gigawatts and meet new records this week as the heat increases. To put these numbers into a bit of perspective, a gigawatt is enough to power about 200,000 Texas homes.
But Texas isn't the only state to experience record-breaking heat this summer, in addition to high temperatures moving across North America, other parts of Europe have also been hit with extreme heat, with the UK Met Office has issued its first "Red extreme heat" weather warning for London.
According to a North American Electric Reliability Corporation report released this past week, Michigan, Texas, and California are at risk of losing power this summer with the Midwest at "high risk" for energy emergencies and other parts of the US remaining at an "elevated risk"
Data from energy.gov tells us that blackouts from severe weather have doubled over the past two decades across the U.S. and the frequency and length of time for power failures have reached their highest levels since reliability tracking began in 2013.
Besides raising the temperature in your stores, Todd Brinegar, EVP Sales & Marketing at ENTOUCH, recommends changing the store's filters, cleaning coils, and focusing on preventative maintenance to avoid blackouts. Finally, Brinegar says that "stores need to invest in an effective energy management system, one that is going to control your assets and put in optimization programs that are not just going to lower your costs today, but over the long term".
There are few businesses today that are able to function without electrical power. Depending on their industry and use, power failures can have a wide range of effects, and a facility's reliance on energy may even ultimately prove fatal in some situations.
A large cause of this concern falls in the healthcare sector. The health monitoring systems in hospitals are delicately supporting the lives of patients, and any disruption in the performance of medical equipment has the potential to lead to the loss of many lives. So what measures can healthcare facilities take to minimize blackouts and reduce strain on the power grid?
Dr. Michael Sprintz, Founder and CEO, of Sprintz Center for Pain and Recovery, says that hospitals have to do what they can to take care of patients and make sure that all critical bio-medical equipment can function despite a blackout. Sprintz says, "for emergency situations, there are options such as alternate power sources, a generator or energy saving devices like batteries, both of those are options that can be used in a hospital environment for power outages". He notes that in addition to these resources, most hospitals have a large generator, that can be used to power any necessary equipment.
At the end of it all, as we all brace for a summer of extreme temperatures, preparing for potential power outages seems to be in everyone's best interest, and investment in power backup arrangements is much more cost-effective than a loss that cannot be repaired.
Latest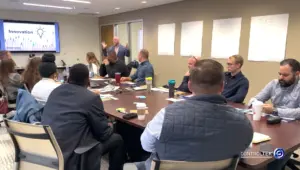 December 4, 2023
The video captures highlights from the CONTROLTEK Design Thinking Workshop specifically tailored for Burlington Stores. It shows interactive sessions, engaging group activities, and innovative brainstorming, emphasizing CONTROLTEK's commitment to developing customized retail solutions in collaboration with the Burlington Stores team.
Read More