Using The Cloud For Custom Salesforce Solutions
Host of Energy 2 Business, Daniel Litwin, spoke with Ross Benton, director at Opportune, and Chris Baker, production manager at Ensign Natural Resources, about their experiences with Salesforce and how the platform has allowed them to address evolving operational needs. The two passionately relate their experiences with Salesforce and the need for a comprehensive, cost-effective solution to streamline business operations.
As an expert in operations, not IT, Baker focuses on finding value in the digitization of the oil field. When it comes to Salesforce, he notes that he thinks of the product offerings in two distinct ways.
Explaining the most well-known part of Salesforce first, he said: "They've got their sales cloud, which is the CRM piece. Think of that as the customer relationship management piece focused on managing your customer data sales pipeline and processes." Secondly, Salesforce has additional products and integrations with preset functionalities that can be modified to meet individual business needs in a cost-effective manner. This provides companies the opportunity to do everything from replacing disparate legacy systems to creating implementation plans for new businesses.
Benton, relating to these points, gave an example of an acquisition he worked on with a goal of establishing operations quickly. The focus was asset and maintenance management, but they wanted software that could address multiple needs, including coordinating field efforts, collecting data, and integrating with multiple applications while growing with the business. The final requirement was the need to be accomplished within a very small budget.
Similarly, Baker explained: "I was looking for a little bit more intuitive solution. In a previous life, we spent lots of time, lots of money, on an ultra-customized application. It took an army of people to keep up with, and it wasn't fit for [our] purpose… We didn't have a lot of money, we didn't have a lot of time, and had a hard time constraint associated with selection and the implementation of the solution."
The solution that solved both Benton and Baker's problem was simple, integrative, and streamlined, and clearly both guests highly recommend other businesses to take the leap and adopt Salesforce.
Latest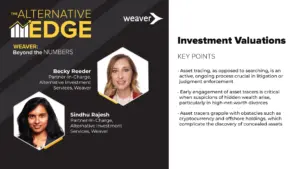 December 4, 2023
In this episode of The Alternative Edge, a Weaver: Beyond the Numbers Podcast, host Becky Reeder, an audit partner and co-leader of the alternative investments practice at Weaver, engages with Sindhu Rajesh, an Alternative Investment Services Partner with Weaver. They unpack the complexities of venture fund valuations, offering critical insights into industry dynamics and best […]
Read More