A Sharp Increase in Mexican Steel Imports is Posing Risks for U.S. Manufacturing and U.S. National Economy
The rapid increase of Mexican steel imports can have some dire consequences in the near future for the American economy.
Several years ago the U.S. and Mexico agreed to a tariff deal that would allow Mexican steel to be imported duty-free into the U.S., while also under the terms that it would not exceed a certain number. Today, Mexican steel imports have broken the conditions of the agreement by exceeding levels not seen in years.
Despite research showing that there is no demand that would explain the sudden increase of steel imports from Mexico, critics say the Biden administration has not acted to curb this issue. As a result, several members of the U.S. Senate have penned a letter directed to the Secretary of Commerce, Gina Raimondo, and U.S. Trade Representative, Katherine Tai, demanding action and compliance of the agreement.
Without some enforcement or revision to the Section 232 tariffs between the U.S. and Mexico, the result could be a permanent loss in jobs for many Americans who are working in the steel manufacturing sector. The effects of this could eventually lead to more job loss and U.S. dependence on Mexican steel imports. There is also concern that the manufacturing of Mexican steel isn't directly made in Mexico.
Dale Crawford, the executive director of the Steel Tube Institute, foresees the consequences of the surge of these imports and what the outcome of that could look like.
Crawford's thoughts
"I'd like to talk about an issue that I think puts all of us at risk here in the United States, and especially the companies that I represent as well as their employees here in the United States. There is massive steel import fraud going on right now. There are customs and border protections that are not properly being upheld and there are tariffs and regulations that are being ignored by the U.S. Trade Ambassador. There are issues with improper labeling using the incorrect HTS code in order to circumvent the tariffs, and ignoring the trade agreement we have with Canada and Mexico by companies primarily importing product from Mexico and bringing product in that is beyond what is allowed by a permitting process under the USMCA. Red tape tariffs and regulations are simply being ignored.
This lack of action will negatively impact American steel companies. It will ultimately lead to layoffs and plant closures. We've actually already started to see some plant and facility closures.
Long term this becomes an issue for our national security. There are good reasons that these tariffs have been put in place. There's a good reason we have the USMCA, which is the trade agreement we have with Canada and Mexico, and we want to make sure that we can make these products in America in a time of war that could come, we need the ability to make these products that are critical to our military, critical to our critical infrastructure, and to our ability to operate independently as a country. We need the ability and the knowledge and the facilities to make these products and if we continue to have products that are brought in that are skirting the tariff laws, that are being brought in at massively undercutting the market in the United States, there isn't an ability to continue to employ the steel workers that have good jobs, that have good benefits, and that most importantly, make products that are more sustainable than the products that are brought in from other countries.
There's a reason why it takes a little bit more money to make some of these products in America. We need to make sure that we are making it possible for these good corporate citizens in the United States economy to continue to make these products that are critical to our infrastructure here in the United States and our military.
I would call on the U.S. Trade Ambassador and the Department of Commerce to look into this and to make sure that proper HTS codes are being used when allegations are made against companies that are being brought into action. Swift action is taken so that there are penalties levied against importers that are breaking the law and that the customs and border protection have the resources, the manpower, and the knowledge to be able to make sure that the products that are being brought in are properly labeled, that are paying the tariffs that have been put in place, and that regulations are followed as part of the permitting program under the USMCA."
Article written by Alexandra Simon.
Latest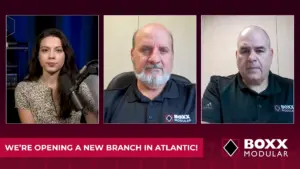 December 4, 2023
In an era where construction innovation is reshaping the industry, modular construction's growth continues to rise. In this episode of Built Modular, Boxx Modular's strategic expansion into Moncton, Atlantic Canada takes center stage. Host Gabrielle Bejarano welcomes Charles Landry and Ray Girouard to explore the implications of this venture. Bejarano, Landry, and Girouard discuss […]
Read More