The Past, Present and Future of Airport Development
The majority of our nation's 70s-era airport infrastructure is lagging behind others in the world, where airports that have essentially evolved into tourist destinations of their own. Changi Airport in Singapore, for instance, offers gardens, children's play areas, shopping centers, a free all-day movie theater, and a recently opened "living lab" that allows Changi to create and pursue innovative ideas.
Another is the customer-centric Al Maktoum International Airport in Dubai that's developing 12 independent, self-contained, medium-sized airports located in one site (rather than a giant hub spread across 54 square miles) that will be able to handle as many as 20 million passengers a year. With only 14 of our country's airports making the top 100 list in the 2017 Skytrax awards, it's vital that the U.S. looks toward upgrading our airports and airlines while creating innovative solutions like new smart terminals and plane models. And it's more than just automated checkins, biometric scanners, bag drop kiosks and public spaces—the use of VTOLs, drones and hovercrafts, railways and other forms of interesting technology will help to ensure the viability of U.S. airports as we move into the future.
On the second episode of Dirt Work, brought to you by MarketScale and Trumont Construction, host Adam Morrisey is joined by Mark Duebner, the Director of Aviation for the City of Dallas, to discuss the role that cities play in aviation space development, the commercial impact of airports, airline relationships, and the future of aviation technologies.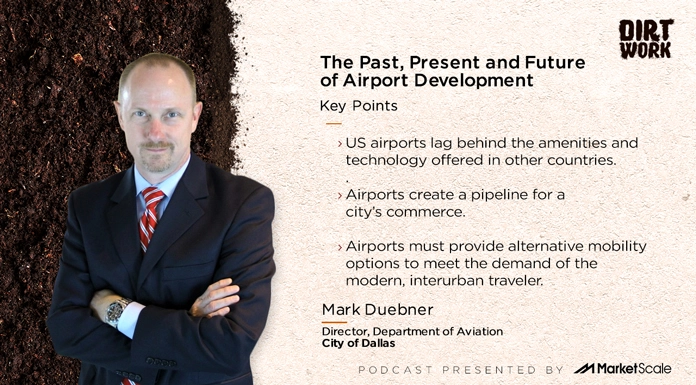 "Airports have moved from the 70s where the bulk of their revenues—their operating income—came from the airlines themselves. And that's changed over time to where now probably less than half of the revenue that goes to airports across the country comes from the airline. The rest of it's coming from non-airline revenue—what we call your concessions revenue where you buy food and drink, parking," said Duebner.
"It wasn't that long ago, your only option to buy something to eat at an airport used to be a slice of old pizza or maybe a hot dog, and now you see celebrity chefs. We have a Stephan Pyles restaurant in our airport which was, 10 years ago, unthinkable. So, as that experience inside the airport has changed, also how airports connect with the surrounding community has changed dramatically," he said.
When asked about the commercial advantages that airports bring to a city, Duebner replied, "Well, I think from a revenue standpoint, that's pretty clear. What we bring in the way of additional sales taxes…things like that. But from an economic development standpoint, airports are really your gateway to all the other markets in the U.S. That's why airports and cities fight so hard to get airline service. So smaller cities, a lot of time, will even incentivize airlines to provide service between the major markets because that creates a pipeline for the business, for the commerce."
As more and more airport travelers increasingly demanding additional mobility options such as app-based rides, rental cars, taxis, rail service, etc. to transport them to city centers and other locales, space constraints are presenting real difficulties for the development of these onsite alternatives.
"The challenge is now that when they built these mega-hub, large-hub airports outside the city with the idea that they'd have room to grow, no one really thought about the development of the cities growing out towards the airport, which has actually made it tougher to get to what was to be the more convenient airport," Duebner remarked. "I think airports are really going to have to shift what they're doing—not only from serving the air travel market—but really being more connected to the surrounding communities, the commercial development, providing, you know, additional services."
For the latest news, videos, and podcasts in the Engineering & Construction Industry, be sure to subscribe to our industry publication.
Follow us on social media for the latest updates in B2B!
Twitter – @MarketScale
Facebook – facebook.com/marketscale
LinkedIn – linkedin.com/company/marketscale
Latest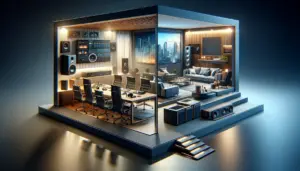 November 27, 2023
In this episode of "Pro AV Today," host Ben Thomas sits down with Audra Kinsley of Sonos Professional to unpack a topic that's causing (sound) waves in the audio industry: the fusion of commercial and residential audio systems. As we navigate through a landscape where consumer and professional audio worlds are increasingly intersecting, Sonos steps […]
Read More