Amping Up Electrical Construction Projects with BIM
From drones and bleeding-edge technology to the end-to-end processes that drive efficiency, modern construction is undergoing a renaissance. Host Shaun MacIntosh talks with the top leaders in construction and provides unmatched insights into the industry that quite literally built the world around us.
As one of the first businesses developed by humankind, construction has been shaping our daily lives in unique ways, with virtually every person and business relying on the industry to provide and maintain our residences, buildings, industrial facilities and infrastructure. A determinant in where and how almost everyone lives, works, commutes and plays, construction usually starts with planning, designing and costing, continuing until the asset is built and ready for use; but also covers repairs and maintenance work, or any works to expand, extend and improve the asset. Fraught with multifaceted challenges—particularly as it pertains to modern electrical and communications systems—that can result in delays, budget issues, crew safety hazards and more, from concept to finish, even the simplest to the most complicated of construction projects requires performance management through set, established processes, the latest in tools and technologies, clear communication and highly skilled professionals.
Merging time-tested proven techniques with new, transformational technologies, for over a century now, Rosendin Electric has been leading the industry in the development and implementation of new tools, training, and technologies, helping construction teams work safer and more efficiently. With core services that include Building Information Modeling (BIM), Engineering, Instrumentation & Controls and Service & Maintenance, as well as specialized value added services such as Design-Assist, Design-Build, Integrated Project Delivery (IPD), and Pre-Fabrication, Rosendin enables an extensive array of customers to tackle highly complex electrical and communication construction projects, delivering real results.
As the BIM Technology Solutions Implementation Lead at Rosendin, Jad Chalhoub, PhD, focuses on identifying relevant emerging technologies, establishing their potential values and ROI, then implements them throughout the BIM department and the rest of the company. And today, Chalhoub joins Shaun MacIntosh, host of Track.Map.Measure, to discuss how BIM technology solutions enhance their processes both internally and out in the field.
According to Chalhoub, prior to BIM, "You would need a bunch of drafters sitting on tables and just drawing on big plans or AutoCAD, depending on what level of digitization you want to go back to. You would need a group of people who are just dedicated to maintaining the information that's related to the plans that are being drafted. You would need a bunch of estimators to work with the costs. You would also need a bunch of coordinators to coordinate those plans to the field." Today, "BIM has facilitated a lot of these processes into one continuous entity that makes everything more possible. Otherwise, you just need significant more manpower to in order to carry out all of the functions that BIM has enabled us to carry out now."

Latest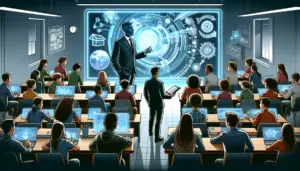 November 27, 2023
In an era where education stands at the crossroads of tradition and innovation, the potential value of thought leadership becomes the guiding star for progress. "Just Thinking" dives into this potential with host Kevin Dougherty and guest Evan Edwards, a Professional Learning Specialist at 806 Technologies who exemplifies the transformative impact of visionary guidance […]
Read More