An Introduction to Laser Interferometry and Best Practices
Measuring optics is a precision practice, and it's made possible with laser interferometry.
In this episode of Metrology Matters, host Tyler Kern kicks off a series on laser interferometry with an introductory episode discussing the practice with Kate Medicus, CEO of Ruda Cardinal, and Bruce Truax, Director of Engineering at ZYGO, to delve into this core technology and to better understand its many use cases in numerous industries.
Medicus began with a brief introduction to how interferometry works: "there is a reference wave, and light reflects off the optic. The comparison of these two ways tells you the shape of the optic."
"Sensors in the interferometer read the wavelength of the light and convert that to a height. You can divide the contours of the surface into very small divisions. The vertical sensitivity is a tenth of a nanometer or better," Truax added.
In the case of optics, Medicus said "you're measuring the full surface of the optic. Once you know this, you'll be able to tell if the optic is good and useful."
Some examples that the guests shared of optics created with interferometers include the computer chips in electronic devices and the array of cameras available on smartphones, cars and doorbell security systems.
Medicus also spoke about some timely use of optics—measuring bacteria and viruses and receiving images and video from the recent Mars expedition. What you're measuring is key to determining the best practices for the interferometer.
"When using interferometers, you have to consider and control the environment. Vibrations, heat in the air, and temperature changes can all affect readings," Truax explained.
"You can't be in the room, and there are different ways to mount the tools that will impact the accuracy, as well," Medicus added.
Follow us on social media for the latest updates in B2B!
Twitter – @MarketScale
Facebook – facebook.com/marketscale
LinkedIn – linkedin.com/company/marketscale
Latest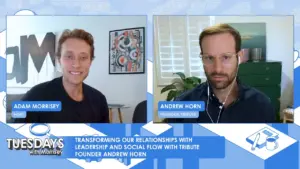 November 28, 2023
Can relationships be transformed through leadership and social flow? Navigating the intricate web of digital relationships can be a tricky proposition. Tuesdays with Morrisey's Adam Morrisey uncovers the transformative impact of emotional recognition in the workplace with Andrew Horn, the mastermind behind Tribute. This podcast edition unravels the story of a platform redefining how […]
Read More