Biden Nears Win as Japan, Dutch Back China Chip Controls
For more on the West's race to implement China chip controls, read Bloomberg's explainer on the computer chip "arms race."
(Bloomberg) — Japan and the Netherlands are poised to join the US in limiting China's access to advanced semiconductor machinery, forging a powerful alliance that will undercut Beijing's ambitions to build its own domestic chip capabilities, according to people familiar with the negotiations.
US, Dutch and Japanese officials are set to conclude talks as soon as Friday US time on a new set of limits to what can be supplied to Chinese companies, the people said, asking not to be named because the talks are private.
There is no plan for a public announcement of the restrictions, and once an agreement is struck, actual implementation could take months as the two countries finalize legal arrangements, according to people familiar with the matter.
"Talks are ongoing, for a long time already, but we don't communicate about this. And if something would come out of this, it is questionable if this will be made very visible," Dutch Prime Minister Mark Rutte said Friday in The Hague in response to a question about the talks.
"This is such a sensitive topic that the Dutch government chooses to communicate diligently, and that means that we only communicate in a very limited way," Rutte said.
The Netherlands will expand restrictions on ASML Holding NV, which will prevent it from selling at least some of its so-called deep ultraviolet lithography machines — crucial to making some types of advanced chips and without which attempts to set up production lines may be impossible. Japan will set similar limits on Nikon Corp.
John Kirby, a spokesperson for the White House National Security Council, confirmed Friday that Dutch and Japanese officials were meeting with US National Security Adviser Jake Sullivan.
"As you might expect, they are talking about a range of issues that are important to all three of us, and certainly the safety and security of emerging technologies is going to be on that agenda," he told reporters on a conference call. He said he couldn't confirm any agreement.
The joint effort expands on restrictions the Biden administration unveiled in October that were aimed at curtailing China's ability to manufacture its own advanced semiconductors or buy cutting-edge chips from abroad that would aid military and artificial-intelligence capabilities. The three countries are home to the most important companies that produce equipment for manufacturing chips, including ASML, Japan's Tokyo Electron Ltd. and the US's Applied Materials Inc.
US equipment makers have complained that the unilateral action by the Biden administration allowed overseas competitors to continue to operate in one of the biggest markets for their products and undermined the aim of restricting China's military advancements.
The action could hurt China's offshore yuan.
"This sets the next escalating move in the US-China tech war a bit more meaningfully and could weaken yuan sentiment a tad in the near term," said Fiona Lim, a foreign-exchange strategist at Malayan Banking Berhard in Singapore.
China has fought back against the US effort. Beijing filed a dispute with the World Trade Organization in December aimed at overturning the US-imposed export controls.
China Sure to Hit Back Over Chip Controls, Japan Lawmaker Says
Even ASML's chief executive officer has warned that the US campaign could have unintended consequences. On Jan. 25, CEO Peter Wennink said the US-led export control measures against China could eventually push Beijing to successfully develop its own technology in advanced chipmaking gear.
"If they cannot get those machines, they will develop them themselves," he said in an interview with Bloomberg News. "That will take time, but ultimately they will get there."
Article by Jenny Leonard and Cagan Koc. With assistance from Debby Wu, Ian King and Tania Chen.
(Updates with Rutte, Kirby remarks beginning in fourth paragraph)
© 2023 Bloomberg L.P.
Latest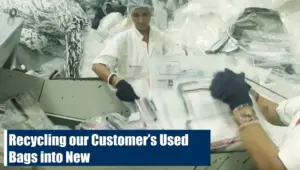 December 6, 2023
This video focuses on EcoLOK4, a groundbreaking product by CONTROLTEK that exemplifies innovation in sustainability. It highlights the process of transforming landfill waste into new deposit bags, with 90% of each bag's material being repurposed trash. This initiative not only reduces waste but also closes the sustainability loop, demonstrating CONTROLTEK's commitment to environmentally friendly […]
Read More