Constants and Variables in Architecture & Design: Dirt Work
Every month Adam Morrisey navigates infrastructure, land, and relationships of the construction industry on Dirt Work.
Founder and Partner of Global Architecture Firm, 5G Studio, Scott Lowe joined us to discuss the architecture process and changes impacting the industry. 5G was founded in 2005 and has grown to an internationally renown firm. Headquartered and founded in Dallas, TX, the firm has offices in Atlanta, Miami and Indonesia and has completed projects in 5 continents. Some of their projects include the Omni Hotel in Dallas, the Virgin Hotel in Dallas, the Forty Five Ten retail store in New York's Hudson Yards development and several infrastructure office, hospitality and mixed use projects across Europe and South East Asia.
The firm was founded to be client centric and focuses on the key parameters of the projects to maintain the balance of cost, functionality and aesthetics. Scott credits their people and culture as the driving force that allows them to be successful working on a variety of project types and geographies. Scott sees the design and development markets shifting as a result of COVID-19 and foresees lower density and lower yield projects in the future.
For those interesting in keeping up on the latest trends, Scott recommends the market research publications produced by JLL and Turner Construction.
Catchup on Past Episodes of Dirt Work!

Latest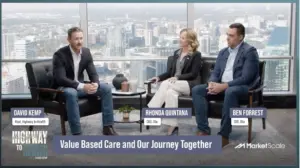 December 7, 2023
As of recent times, the healthcare industry has been progressively shifting towards value-based care, a model that emphasizes patient outcomes over the quantity of services delivered. This transition represents a significant shift that promises to enhance patient experiences and outcomes while controlling healthcare costs. With a growing emphasis on this approach, especially over the […]
Read More