Decades of Data are Guiding New Legislation for Modular Construction
Cross-Sections brings you bite-size conversations with host Anthony Gude as he chats with colleagues and leaders in the construction and industrial ecosystem. 
Modular construction has grown tremendously in the past few years, leading many to believe it's a new innovation in the building industry. In reality, it has been around for quite awhile, but has only recently reached new heights as society re-evaluates our relationship with the environment.
On today's episode of Cross-Sections, host Anthony Gude is joined by Tom Hardiman, Executive Director of the Modular Building Institute (MBI), the largest and only international trade association representing the modular industry. The two discuss the initiatives and annual offerings that MBI handles, briefly discussing the importance of consistency in the modular industry. Hardiman specifically mentions the two new ANSI standards MBI just recently published and made available in the International Code Council (ICC) book store, and explains how they're helping contribute to the needed efficiency and regulatory strategy for this industry. The two also talk through MBI's data collection process of all existing and coming modular projects for research efforts, especially to inform new legislation for modular construction over a decade-long period.
Abridged Thoughts:
Anthony Gude: Didn't you have something recently come out that would help clarify [what the definition of modular construction is]?
Tom Hardiman: We did. You know, I get a little nerdy on some of this stuff, but we were partners with the Modular Building Institute International Code Council. For the past two years, we've been working on two new ANSI standards for the modular and offsite construction industry. Just wrapped those up, they were just published. They're available in the ICC bookstore and they're great resources that I was just so excited that we now have ANSI standard definitions for this industry. And for anyone else, they're a big deal, but for people in this industry, we know how much the terminology has caused confusion over the years. So I think it's a pretty big deal.
Anthony: Absolutely. I reposted them and ordered them when you released that to the world. But what does that mean for people that are approaching the industry from the outside looking in? Do you think it's useful to them as well?
Tom: Oh, it's going to be tremendously useful. And it's not just for people that are new to modular, it's for code officials and policy makers. The way our industry is regulated in the US, we're regulated at the state level. So there's a state agency you have to get reviewed and approved by them. 35 states have a program, but they're all a little different. They all use different terminology and different processes, plan review procedures and quality control. So there's no consistency; a few states are synced up. But this gives policy makers, plus those 15 states with no guidance, a document that they can say, "this is how I review and regulate this industry, this is how I make sure we're getting safe quality modular buildings on the street." And it is. It's this kind of little primer for those new to modular. They can say, "what the heck is this, what's a third party inspection agency?" Those kind of things are all covered in these two standards. We're trying to standardize the approval process. We have manufacturers that will ship to 10, 15 different states and they have to be reviewed and approved by 10 or 15 different programs. And it's a lot of work. So if we can standardize that a bit, we'll think we can make things a lot more efficient for the industry and for end users.
More Stories Like This:
Latest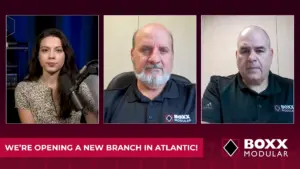 December 4, 2023
In an era where construction innovation is reshaping the industry, modular construction's growth continues to rise. In this episode of Built Modular, Boxx Modular's strategic expansion into Moncton, Atlantic Canada takes center stage. Host Gabrielle Bejarano welcomes Charles Landry and Ray Girouard to explore the implications of this venture. Bejarano, Landry, and Girouard discuss […]
Read More