Driving Automation: Kasa Controls Looking for Senior Controls Engineer
The topic of conversation for this episode of Driving Automation was focused on opportunity; a job opportunity, to get specific. Kasa Controls is looking to fill a Senior Controls Engineer position. Josh Hardesty, Senior Field Installation Coordinator for Kasa, provided all the details an applicant needs to know to apply and, more importantly, why this opportunity is worth pursuing.
This role is defined by team leadership, project oversight, creative design work and building quality relationships with internal and external customers.
The Senior Controls Engineer role will require an array of engineering technical expertise, working on design work like electrical schematics, power circuit and control circuit sizing and loading, SCCR calculations, thermal calculations for control panels, and control panel interior and exterior design and layouts. The Senior Controls Engineer will need strong communication skills, organizational skills, and sharp and creative energy ready to lead on and off-site.
This position does carry with it a heavy workload. There is a fair amount of travel involved, and when out in the field working onsite, the days could include weekends.
As for the experience level, Hardesty said Kasa is looking for someone with multiple years of experience and someone with an electrical engineering degree. However, they will consider candidates with relative experience.
And what about career path expectations?
"Obviously, it's a leadership role that has people reporting to them when they are in the field and when they take over a job site," Hardesty said. "In some cases, that person may go on to be a manager of other engineers, as well."
If there was a figure that best embodies the type of candidate Kasa Controls is looking for in this role, Hardesty said it would be MacGyver.
"Not everything is the same when you get into the field, so you have to make decisions, and you have to be able to see the long-term effects," Hardesty said. "Then, you have to look around you and see what you have available to address it."
To apply, go to https://kasacontrols.com/positions.html.
Latest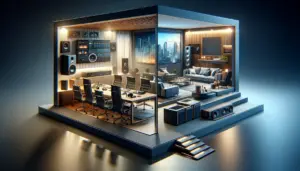 November 27, 2023
In this episode of "Pro AV Today," host Ben Thomas sits down with Audra Kinsley of Sonos Professional to unpack a topic that's causing (sound) waves in the audio industry: the fusion of commercial and residential audio systems. As we navigate through a landscape where consumer and professional audio worlds are increasingly intersecting, Sonos steps […]
Read More