Engineering Experience: Technology's Role in the Future of Banking
Engineering can involve any industry, and Engineering Experience is all about bringing those unique stories to listeners. Host Tyler Kern and Paragon CEO Mike Wilkinson spoke with Chris Debrecht, Owner and COO of Tempo Financial Solutions, about his company's partnership with Paragon.
Tempo specializes in hardware and software for cash automation, serving big and small financial institutions.
The two first met years ago when Wilkinson sought the video game Stargate to add to his collection. Debrecht was able to help him find it, and Wilkinson confirmed he still has it. Proving the world is very small, they got reacquainted when Debrecht needed engineering help on some projects. "We needed some guidance on engineering, and that led me to Paragon and back to Mike," Debrecht said.
Wilkinson noted that Debrecht's technology acumen makes the relationship seamless.
"He understands the things we're doing, so it's a peer conversation," he said. "Not all our customers are that tech-savvy."
Innovating ideas to support banking has changed since COVID-19, which Debrecht spoke about. "It's been an eye-opener for everyone. One major thing has been those customers, often older, that had not been adapters of online banking," he said. "They visited their branch for everything. Some have now adapted, but it's a challenge."
The banking world has learned that they can survive without large branches, and Debrecht believes this change will be permanent.
"We'll likely see smaller footprints. Banks know they can do it with less more efficiently. That means fewer tellers, but we're working on products to reallocate their people," he noted.
As for the future, Tempo will keep moving toward its path of taking existing hardware of software for banking and making it better and more accessible.
Debrecht mentioned the possibility of more intelligent ATMs.
"The question is how do you make these machines user friendly for all age groups, more intuitive, and get the task completed quickly," he said.
Find out more about the Tempo and Paragon partnership by listening to the conversation.
Follow us on social media for the latest updates in B2B!
Twitter – @MarketScale
Facebook – facebook.com/marketscale
LinkedIn – linkedin.com/company/marketscale
Latest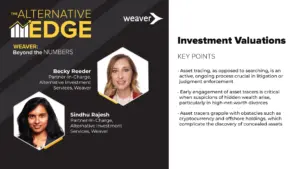 December 4, 2023
In this episode of The Alternative Edge, a Weaver: Beyond the Numbers Podcast, host Becky Reeder, an audit partner and co-leader of the alternative investments practice at Weaver, engages with Sindhu Rajesh, an Alternative Investment Services Partner with Weaver. They unpack the complexities of venture fund valuations, offering critical insights into industry dynamics and best […]
Read More