Equitable Cities III: Addressing Inequality and Enacting the Change Our Cities Need
On this episode of Dirt Work, host Adam Morrisey continued the show's series on the topic of equitable cities by discussing the role that real estate developers, bankers and community initiatives have on the future of our cities with Dallas-area business leaders Tim and Terrence Maiden.
Terrence serves as CEO of Russell Glen, a local development firm, and Tim, a Senior Vice President at Simmons Bank, focuses on commercial lending, including real estate projects. Tim and Terrence grew up in Oak Cliff in Southwest Dallas, attending Dallas Carter before continuing their football and academic careers at Texas Christian University.
Tim and Terrence have also been involved in entrepreneurial ventures, including athletic apparel lines and restaurants. In addition to their careers in football and business, Tim and Terrence have been identified as transformational leaders in their communities through their affiliations at University of North Texas Dallas and their non-profit organizations, Two Wins and, most recently, the Maiden Foundation, which are committed to addressing issues impacting people by employing an array of social investing tools and helping to expand opportunities for disenfranchised communities in Dallas and other cities.
The Maidens have received numerous awards and accolades for their leadership in business and their passion for serving underserved communities, including induction into TCU's Business Hall of Fame, recognition by CADILLAC SHAPING DFW and the President's Award from the NAACP's Dallas chapter.
Tim and Terrence discussed their journey into DFW real estate, crediting the opportunities and network they had through TCU and other mentors. In addition, the trio discussed the role that the real estate and banking industries have had on inequities that our cities face and their role in addressing them.
Tim stressed the importance of providing affordable capital and financial literacy to historically underserved communities, while Terrence highlighted how real estate can be a vehicle to bridge inequities in our cities through projects such as the transformational Red Bird Mall project.
In the community, the Maiden brothers believe that it is of the utmost importance to provide exposure and mentorship to youth, as well as to educate business leaders on existing inequities, prompting them to get involved in the efforts to raise up the next wave of leaders and drive change.
For listeners interested in learning more about the work Tim and Terrence are doing, check out the Maiden Foundation and follow them on various social media platforms at @MaidenTwins.

Latest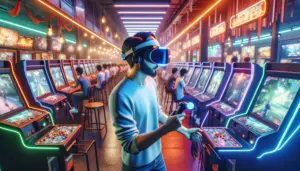 December 4, 2023
In this Pro AV Today soundbite from Dan O'Brien of HTC VIVE, the conversation centered on the significant role of Virtual Reality (VR) and Augmented Reality (AR) in attractions and enterprise applications. O'Brien highlighted the critical need for durable hardware design, tailored to withstand extensive use in location-based entertainment (LBE) operations. Unlike consumer-grade VR headsets, […]
Read More