How Building Owners Can Apply Systems into Sustainable Projects
Build for Impact host, Daniel Huard, was joined by Mick Schwedler for a discussion on sustainability, resilience, material transparency, and wellness in building design.  Schwedler is a Senior Applications Engineer with Trane and President of ASHRAE.  He has been actively involved in the development, training, and support of energy efficient systems since 1982.
Huard and Schwedler discussed the evolution of sustainability and how the mindset of the industry has changed over time.
"Initially, sustainability only meant energy," said Schwedler.  "I think people are really starting to think about how can we do more with less.  Less materials.  Less energy.  Less impact."
Schwedler provided insights into the resiliency piece of building design.   The ability to maintain infrastructure and improve them to be more resilient to damage and natural disasters is critical.  Issues caused by human impacts and natural disasters can be prevented or minimized with thoughtful designs that account for different failure modes.
Material Transparency is more than just the materials themselves.  Understanding how they are made, the material composition, how they are transported and implemented are key to evaluating the true impact of materials have on the environment.
Schwedler also spoke about ASHRAE's involvement in taking an active role in progressing wellness initiatives.
Commissioning of projects is an important step to ensuring systems reach their intended use and benefits.
"A design can be perfect.  A contractor can install it perfectly.  It can operate either well… or it can just be a bunch of pieces that might work together but probably won't," said Schwedler.

Latest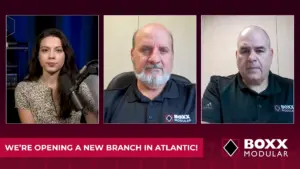 December 4, 2023
In an era where construction innovation is reshaping the industry, modular construction's growth continues to rise. In this episode of Built Modular, Boxx Modular's strategic expansion into Moncton, Atlantic Canada takes center stage. Host Gabrielle Bejarano welcomes Charles Landry and Ray Girouard to explore the implications of this venture. Bejarano, Landry, and Girouard discuss […]
Read More