How Drones are Building Value on the Construction Site
Construction projects have very transparent estimates for price and date of completion. To meet deadline and come in under budget, firms must always evaluate the tools at their disposal. One innovation that has become increasingly popular in construction circles recently is the drone.
"What we're doing by flying these units is we're getting added value. For instance, we're monitoring safety protocols or for monitoring utilities, there's a need for that drone activity at that point. So, it's just a different tool for a different time," Richard Lopez, Virtual Design and Construction Manager, Hensel Phelps Construction Co. said.
Commercial UAV Expo Americas in Las Vegas was not just a gathering of drone professionals but also an opportunity for other industry insiders to see how the technology can help improve their business.
While they may not piece together a building from the ground up, drones continue to play an important role in the completion of commercial and residential construction projects. According to Lopez, this is not a trend that is going to go away anytime soon.
Latest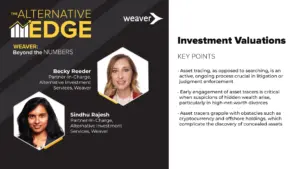 December 4, 2023
In this episode of The Alternative Edge, a Weaver: Beyond the Numbers Podcast, host Becky Reeder, an audit partner and co-leader of the alternative investments practice at Weaver, engages with Sindhu Rajesh, an Alternative Investment Services Partner with Weaver. They unpack the complexities of venture fund valuations, offering critical insights into industry dynamics and best […]
Read More