How Real Estate Developers Are Designing For Gen Z
Highlights of the Conversation:
"Despite many of the headwinds that are happening, we are still long in the cycle. We still have plenty of residential projects but it is transitioning to more offices right now."
"We have a big issue with taxes right now, with the uncertainty of rising property taxes. Our accessor is changing how he is doing things which in the long term will be very good, in the next two years it introduces a lot of uncertainty."
"As rents have continued to rise in the previously most popular areas (River North, Goldcoast) development has naturally migrated to areas where people who still want to live in that high rise experience but can't afford to pay three-thousand or more a month are able to do it for less. There are three buildings in the south loop that have finished in the last six months" 
"Moving to the different neighborhoods are actually better because you are able to offer something different that the neighborhood hasn't had a high rise product. And when you're doing the next River North residential building it doesn't feel like you're really adding much to the neighborhood."
"The age demographic who are coming into the renting market grew up in the internet age, they want to order everything online. In our units every lock, every switch is all controllable by an app."
Chicago has an interesting architectural landscape due to its size and lakefront location. Because of its tightly-built map and expansive population, the city is unique among its midwestern contemporaries.
The diversity of projects in the Windy City also makes it a bellwether for construction trends across the United States.
Chris Horney, Managing Director at MB Real Estate in Chicago examined the city's position in the current real estate climate at the Chicago Build Expo in September.
"We've got plenty of things happening in Chicago. Despite many of the headwinds that are happening, we still have plenty of residential, though now it's transitioning to office late in the cycle," Horney said.
Being in a city that is already highly developed means that firms must look to new areas to in order to differentiate themselves from other projects both in aesthetic and price.
"Moving to the new neighborhoods is honestly better because at some point you can begin to offer something different to a new neighborhood that hasn't had a product like a high-rise product," Horney said.
Being able to shape the identity of a growing or previously neglected neighborhood with new development is also something that is important to Horney as well.
While Chicago may not have the available space of other American cities, creative developers are still finding ways to make their mark on the shores of Lake Michigan, and the region's neighborhoods will be better for it.
Latest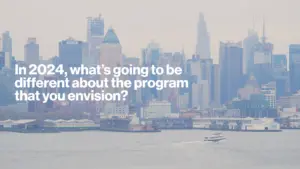 December 1, 2023
In the dynamic telecommunications landscape, Verizon's Partner Network continues to evolve, adapting to new trends and opportunities. For another segment featuring Mark Tina, VP of Indirect Channel Distribution and Channel Chief at Verizon Business Group, he explores exactly what types of significant changes and advancements the Verizon Partner Network will see in 2024. In this […]
Read More