Manufacturing a Stronger Standard: Robotic Finishing – More than a Program Path
Lesta and Wagner have over a decade of proven experience in automation together for general industry in Europe. DeGeest brought Lesta's automation technology to the U.S. to build their robotic finishing system for metal their fabrication customers and opened LestaUSA to bring those solutions to the rest of North American companies. Wagner's North American Systems group recognized the potential right away by becoming the first LestaUSA Equipment Partner and provided equipment for LestaUSA's Integration Center and Test Lab. With each successful installation, that partnership has continued to grow, and now LestaUSA has integrated one of their self-learning robots into Wagner's test lab as well. JR Rogers, National Sales Manager, Engineered Systems, at Wagner, joined Derek DeGeest to discuss this exciting collaboration of technology and expertise.
With this distribution partnership, Rogers said it allows Wagner to offer a fully automated application packaged for its customers on complex parts. "Automation means a lot of different things," Rogers said. "But when someone says I can't find labor; I can't keep labor, I need to go automated, that means 100% automation and no manual intervention from the coating application. With the partnership with LestaUSA, we have a viable solution to provide customers with something they can bring to their system."
This combination of Wagner equipment for paint applications and Lesta's self-learning finishing robots create a powerful tool that learns from the manufacturing experts who do the painting. The self-learning robots enter into a weightless learning mode and allows painters to paint a part in real time with Lesta's robot. The robot records every movement, gun angle, trigger pull and gun preset creating an automated robotic program in minutes. The painter becomes the programming expert, and the robot is the tool doing the labor. This allows the painter to step out of the booth to work on improving quality and production potential of the system.
LestaUSA and Wagner will debut their partnership at IWF (The International Woodworking Fair®) 2022 in Atlanta. "I'm looking forward to having people come in and see in our booth the Lesta robot in combination with our product and seeing the different ways it can be used," Rogers said. "And we can supply a fully automated system, not just the gun and the plural component of the pump, but we can actually supply the robot in partnership with DeGeest and Lesta Self-Learning Finishing Robotics."
Latest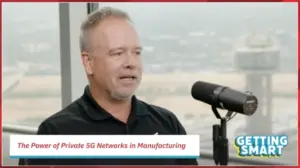 September 25, 2023
The Convergence of 5G and Automation in Manufacturing: A New Industrial Revolution The manufacturing industry stands at an inflection point. Advances in 5G technology and automation are coming together to transform the way products are made, and the role that humans and machines play in this process. Per Treven, Director of Business Development at Ericsson, […]
Read More