Marking Minute: The Importance of Marking Products in the Forestry Industry
Marking products are an invaluable tool in the forestry industry, as Sherry Qualls, Inside Sales Account Manager at Presco, explained to Marking Minute's Tyler Kern.
"Presco's marking products, specifically our flexible PVC roll flagging tape, are utilized in the forestry industry year-round for many different purposes," Qualls said.
Marking products are an indispensable tool for the forestry industry, taking on jobs from marking and tagging trees for removal and harvesting by loggers to identifying unhealthy, diseased or hazardous trees, wildfire suppression, and trail marking.
"All of these applications require the use of roll flagging to communicate important information to the persons involved," Qualls said.
Cutting the correct trees is so essential in forestry to maintain a healthy forest. The colored roll flagging tape offered by Presco serves as a coding system for loggers and arborists to know which trees to save and which to remove. These colored tapes also double as an aid for emergency responders and crews during natural disasters and emergencies.
Extreme weather conditions are another critical aspect of forestry management. Any marking product used must possess the ability to withstand high winds, heavy snow and rainstorms in large areas of national forests. With a third of U.S. lands owned by the federal government, forestry agencies rely on Presco's product durability to withstand nature's punishment.
"The elements can wreak havoc on marking tape," Qualls said. "The sun can bleach it, the wind can tear it, and extreme cold can destroy it. Those are the reasons why our flagging tapes were formulated specifically to perform at low temperatures or in prolonged hot weather."
Follow us on social media for the latest updates in B2B!
Twitter – @MarketScale
Facebook – facebook.com/marketscale
LinkedIn – linkedin.com/company/marketscale
Latest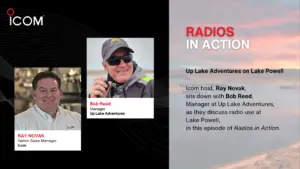 November 29, 2023
Delving into the serene beauty of Lake Powell, the Icom Podcast "Radios in Action" pairs the thrill of personal watercraft adventures with the crucial use of marine radios. Host Ray Novak and Bob Reed, the Manager of Up Lake Adventures, discuss the enthralling experiences offered by Up Lake Adventures in Utah's majestic landscapes. In […]
Read More