Shaping the Future of Surface Profiling: ZYGO's LS 650 Revolutionizes Large Work Volume Measurements with Sub-nanometer Precision and Efficiency
In the field of surface profiling, professionals often grapple with the need to measure larger work volumes with a precision that doesn't compromise the surface quality. Traditional methods often fall short, either due to their contact-based nature or their inability to accommodate larger work volumes. This ongoing problem creates a pressing need for a solution that can deliver both the required precision and accommodate the necessary work volume.
To address this issue, ZYGO presents the LS 650, a specialized configuration of the industry-leading Nexview NX 2 CSI 3D optical profiler. The LS 650 breaks away from conventional limitations by offering non-contact sub-nanometer surface profiling. This optical interferometry-based approach is ideal for precision topography, step height, roughness, waviness, and panels with large X and Y sizes.
One standout feature of the LS 650 is its 'Smart Setup' technology, which allows users to transition from placing a new part into the system to obtaining their first measurement in less than a minute. This technology automates the entire process, including part detection, light level setting, scan length determination, and the initial measurement, all with a single button press.
The LS 650 is powered by ZYGO's comprehensive MX Software, which controls every aspect of the system, from acquisition to data analysis, results presentation, and automation. This single software platform streamlines the operation, making it user-friendly and highly efficient.
The introduction of the LS 650 marks a significant leap forward in surface profiling. The precision and efficiency it provides, along with its ability to handle larger work volumes, directly addresses the challenges that have long plagued the industry. The outcome is a solution that revolutionizes surface profiling, enabling professionals to produce more accurate, higher-quality results in less time.
By reimagining the approach to surface profiling, ZYGO's LS 650 demonstrates how innovative thinking can transform industry challenges into opportunities for improvement and growth. With the LS 650, ZYGO is not only providing a solution to a problem; they are leading the industry towards a more efficient, precise, and successful future.
Latest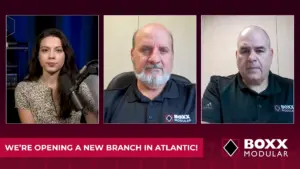 December 4, 2023
In an era where construction innovation is reshaping the industry, modular construction's growth continues to rise. In this episode of Built Modular, Boxx Modular's strategic expansion into Moncton, Atlantic Canada takes center stage. Host Gabrielle Bejarano welcomes Charles Landry and Ray Girouard to explore the implications of this venture. Bejarano, Landry, and Girouard discuss […]
Read More