Two Decades of Revolutionizing the Optics Industry: Continual Deliveries of World-Changing Custom Optical Products
For two decades, Zygo has been a tour-de-force in the optics industry, creating custom optical products that have revolutionized fields from life sciences to medical technology. Their technical competence is globally recognized and has firmly established Zygo as a trusted brand for optical metrology and fabrication.
The Zygo secret recipe combines expertise, experience, and an unyielding passion for optical innovation. Their comprehensive capabilities span the full spectrum of optical production, from conception to completion, supporting any optical product that can be envisaged.
A crucial ingredient in Zygo's success recipe is their close collaboration with customers from the get-go. Each project kicks off with an in-depth discussion to understand the customer's vision, their design origins, and the destination they seek. This early involvement enables Zygo to translate the customer's aspirations into a tangible, high-performance prototype.
Beyond prototype development, Zygo's process seamlessly transitions into production. A unique facet of Zygo's production process is the integration of metrology throughout the entire chain. Zygo's prowess in optical system design and development for metrology is manifested in their Zygo interferometers. These offer a diverse range of wavelengths, providing the flexibility needed to design custom metrology tools that can precisely measure and guarantee system performance as per customer requirements.
Further establishing their reliability, Zygo operates under the stringent guidelines of ISO 9001 and 13485. The latter is a testament to Zygo's commitment to the medical industry, demonstrating their capability to produce products at the quality level expected in such a critical field.
What makes Zygo an ideal partner for researchers and manufacturers is their proven track record in optical design and assembly. Their robust design and development processes, coupled with half a century of business experience, equips them to take on complex measurement challenges that others might falter at.
Zygo leverages its exceptional interferometry expertise, available both in Middlefield and in Richmond, to ensure reliable, compliant, and cost-effective performance. Their ability to swiftly transition from specifications to prototypes, delivering high-quality outcomes on the first attempt, underscores why Zygo remains one of the most dependable partners in the industry, particularly for the medical field.
Latest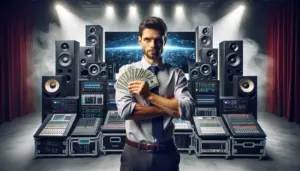 December 8, 2023
Mastering AV sales strategies in a global professional audio-visual (Pro AV) market, poised to reach $79.2 billion by 2028, requires much attention to detail. The surge in demand from corporate, government, and institutional sectors, driven by the need for enhanced productivity and efficient working environments, gives AV sales pros a lot of opportunity. In […]
Read More