Marking Minute: Why Presco Can Provide More than Its Customers Expect
Presco's customers often know they can trust the marking company for one aspect of their product line.
Whether it's marking flags or detectable tape, they may have had a partnership for years, but perhaps don't realize they could get something like tracer wire or barricade tape from Presco, as well.
"You can't assume they know everything about your business. They have 1,000 different SKUs, tons of vendors and, quite frankly, they don't really have time to sit there and learn about a marking products vendor and everything they have," said CJ Freeman, National Account Manager at Presco.
It's Freeman's job to make sure that customers not only know about Presco's full product line, but also to see where they've been getting those products from before. Often, he finds they're spending more money at a big-box hardware store than they would getting a high-quality product from Presco.
That hasn't changed because of the coronavirus pandemic, either. As spaces like retail outlets and grocery stores need to indicate direction of flow, many have scrambled for marking products. Other marking companies have seen their supply chains disrupted, but, by having a robust line of products made in the United States, Presco has been able to work with clients and quickly deliver on even custom projects.
"Bringing value to customers is paramount. At the end of the day, it is just marking products. It's pretty simple, but what we try and focus on goes so far beyond that," Freeman said. "We want to be that one-stop shop for all marking products and bring some unique styles to it, whether it be from the customized standpoint, the low minimums, the quick turns or the product being USA made."
Follow us on social media for the latest updates in B2B!
Twitter – @MarketScale
Facebook – facebook.com/marketscale
LinkedIn – linkedin.com/company/marketscale
Latest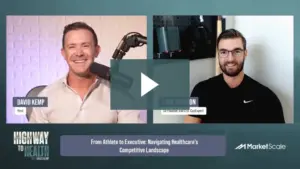 September 28, 2023
Navigating healthcare's competitive landscape requires innovative solutions addressing care quality and affordability. CapExpert is a game-changer in outpatient healthcare. It enhances asset management, ensuring the best care for patients. Luke Johnson, Co-Founder and CEO of CapExpert, spoke with Highway to Health's David Kemp on how CapExpert enhances asset management, bridging visibility gaps and streamlining […]
Read More