Apple's Visitor Center Is Open to The Public
Apple Park unveiled its brand-new visitor center earlier last month. In a press release issued by the company, the building is "a uniquely designed architectural extension of the new campus with similar aesthetics. Several elements from the main building are replicated at the visitors center to give people a taste of the precision detailing at Apple Park."
Architecture firm England's Foster & Partners added futuristic details much like its flagship store in San Francisco, and the building's sleek, minimalistic design is a visual representation of Apple's brand. Even the quartz handrails were designed with care. You'll find no corners or dividers, so visitors feel like they're holding an iPhone to the touch.
Alongside a small cafe, visitors will find exclusive swag that you won't find in your local stores, and through AR you will be able to take a virtual tour of the campus. But don't expect to get many views of Apple's main headquarters, here. The building is located across the street from its main hub, and the rooftop terrace offer only glimpses of the circular building.
 
Latest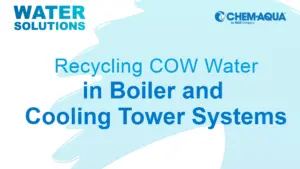 December 7, 2023
For the latest episode of ChemAqua's Water Solutions podcast, the focus was on an innovative approach to water conservation in the dairy industry. The show examined the potential of reusing Condensate of Whey (COW) water, a byproduct of dairy processing, and highlighted some of its economic and environmental benefits. Hosted by Dani Waddell, the informative […]
Read More