Why Aren't Businesses Taking Cyber Security Seriously?
The issue of cyber security isn't being taken seriously by businesses. Global Ransomware attacks cost $5 billion dollars[1] in 2017 alone, and is expected to climb for 2018. By 2022, it's expected to hit over $6 trillion in damages. Though the statistics are impressive, a mere 39% of companies take cybersecurity at face value. In 2017, big name companies fell victims to security breaches, including Equifax, Uber, The National Health Service in the U.K., Yahoo, and over 60 Federal Agencies and Universities that affected over 100 million people.
If these attacks can cripple industry giants, imagine what they could do to a small business. 1 in 40 small companies are targeted each year, and while that pales in comparison to how often bigger companies are attacked, the danger often comes in the form of phishing attacks designed to steal passwords. "Hackers love small businesses," says Hemu Nigam, founder of SSP Blue.  "They don't have the resources to put in high-end cybersecurity protection and they may not be consciously aware they are a target."
Forbes recommends training your employees on password building, protocols, and two-factor authentication for the most comprehensive protections on their accounts.
---
[1]
https://www.csoonline.com/article/3153707/security/top-5-cybersecurity-facts-figures-and-statistics-for-2017.html
Latest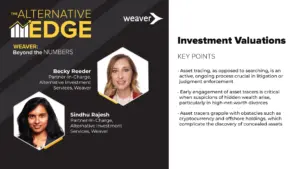 December 4, 2023
In this episode of The Alternative Edge, a Weaver: Beyond the Numbers Podcast, host Becky Reeder, an audit partner and co-leader of the alternative investments practice at Weaver, engages with Sindhu Rajesh, an Alternative Investment Services Partner with Weaver. They unpack the complexities of venture fund valuations, offering critical insights into industry dynamics and best […]
Read More