How 3D Food Printing Technology Is "Shaping" the Food Industry
The possibilities of 3D printing technologies are expanding into the food industry. From pizzas to personalized foods, 3D food printing technology is being adopted by many food industry professionals for producing unique food items.
The incorporation of this new technology into the food space brings a lot of benefits to manufacturers. Now, companies can boost the visual appeal of their food products by designing new shapes which can be manufactured using a 3D printer. Additionally, the labor cost for creating culinary art can be very expensive for industry professionals; a new 3D food printer on site can cut costs significantly.
This type of technology is already prominent in the medical device, automotive, defense and aerospace industry. However, the presence of 3D food printing is growing as more major players in the food industry take notice of this innovative technology.
Although this technology is relatively new in the food space, there are already companies who have developed and sold 3D food printers to major clients in the industry. BeeHex Incorporated and Natural Machines are currently among the top 3D food printer manufacturers in the world . According to these two companies, 3D food printing has the potential to disrupt multiple food categories in the industry.
Pizza and Nutrition Bars
BeeHex, Inc. has developed a 3D printer that can produce fresh foods like pizza. The company raised $1 million in a funding round led by Grote Co. for producing their machines.
BeeHex CEO, Anjan Contractor, originally developed the 3D printer for NASA astronauts. The National Aeronautics and Space Administration saw a need for better food options for their astronauts during space missions. In response to their needs, Contractor – who had been working with 3D printers for a while – pitched a personalized 3D food printer to the administration. NASA loved the idea and Contractor then developed his first 3D food printer that prints pizza, an idea he got from NASA. The project eventually did not make it to phase two of NASA's three-phase project. However, it did inspire Contractor to create a model suitable for use on Earth.
This project led Contractor to meet Benjamin Feltner who is now the COO and co-founder of BeeHex. Together, they produced Chef 3D, a printer that has the ability to print out pizzas according to the user's preference in shape, size, toppings and even calories.
The company also recently won a Small Business Innovation Research (SBIR) with the US Army and is looking into developing a multi-stage personalized nutritional 3D food printer for soldiers. They are currently completing phase one in the process and have been receiving good reviews.
"We started off with pizza because it's entertaining and actually tasted really good because we got the recipe from one of the best pizza restaurants in New York City. But it can do anything and we've pivoted to doing a few types of food now. But the Army wants personalized nutrition. Now we are printing highly-nutritious bars and they are personalized for each individual," said Feltner in an interview with Xtalks.
BeeHex's nutrition bar idea is still to be reviewed by the Army's executives in order to reach phase two. However, the company plans on producing a personalized nutrition printer for other businesses as well.
"One product we will be offering and are willing to talk to people about now is a personalized nutrition machine. That's something that might go in airports, gyms, hotels and things where you need something that's built specifically for you and you don't have your kitchen right there. So, you [don't] have to go out and get some food that isn't very nutritious or something in a certain area that you're not familiar with. This will sort of be like your multivitamin but a food replacement for that."
The personalized nutrition printer is just one of the products the company is working on. Another printer they are developing is specifically for dessert decorating. According to Feltner, these printers are easy to use as well.
"For end consumers (those who will be eating the product), it will be as easy as just walking up and just like you would with any sort of app, going through and choosing a flavor, choosing the ingredients that you want and pressing go."
Feltner goes on to describe how their 3D printers could be used by food companies.
"When we're building it for a store or another kind of customer where they're wanting to manipulate it, let's say we're doing dessert decorating, they'll have to place the cake or whatever it is inside the machine and then start choosing designs or make their own design using a computer [that is] using our software and then press go."
At Home Printing
Bringing 3D printing technology to regular consumer households is the end goal for another 3D food printer manufacturer, Natural Machines. The company hopes that in the future, people will be able to print any food item they can think of in the convenience of their homes.
"If you think about it, if you eat anything from a food manufacturer you're practically already eating 3D printed food because what a food manufacturer does is they take food, they push it through machines, they shape and they form it. So, we've taken that exact same concept and shrunk it down to a designed kitchen appliance to where you can use your own fresh, real ingredients. So, we want to get people back into their kitchens and cooking more with more fresh, real ingredients, rather than becoming over-reliant on the over-abundance of packaged and processed foods that we find in our supermarkets today," said Lynette Kucsma, Co-founder and CMO of Natural Machines in an interview with Xtalks.
The company's Foodini 3D food printer utilizes hand-prepped ingredients that are loaded into five reusable, stainless steel capsules. Each capsule has a twist off nozzle that is available in different sizes to accommodate a variety of shapes. The machine differentiates itself from other food printers with its ability to produce products from fresh ingredients that are hand loaded. However, users must prepare the food refills by chopping, cutting or processing them. Pre-filled capsules are also going to be option for users in the future.
"Well Foodini is not a food processor, so what you would not do is put in an entire carrot, for example. So, you would need to process that to some extent to make it printable," said Kucsma.
This process allows users to know exactly what ingredients are used to print their food item, which is a quality many consumers would appreciate. The machine does not use any additional food glues to create its designs. Instead, Kucsma advises users to keep the consistency of their ingredients in mind when printing out food items.
"So, the way we print food is you do not need any additives, preservatives or gelling agents or any type of glue to hold the structure together. You can use gelling agents if you want to, but again that is your choice because we ship with empty stainless-steel food capsules. If you think about things like mashed potatoes for example, you can add height to that. If you're printing something like tomato sauce, you're not going to get a 3D structure out of that."
The Foodini is also a connected device that can be updated and innovated with the internet. Users can upload recipes onto the device with their tablets and computers. The device can also be updated to feature the latest software just like smartphones can.
"Foodini comes with an onboard touch screen and we built our own software to make an easy to use kitchen appliance," Kucsma added. "We built our own software where you can actually create your own dishes and your own shapes but Foodini also comes with a library of shapes that you can also use that are built in, but you are not restricted to using those types of shapes."
The Foodini machine is not limited to basic shapes and designs; users can upload images that they sourced or developed themselves and print out those images.
"If you use Photoshop or if you use Paint, or if you even take a picture that you wanted to print, you can actually import that into our software and 3D print it."
The Foodini is currently being used by culinary professionals such as Michelin star-ranked chefs Paco Pérez and Joel Castanyé. Their printer was also the highlight of Randi Zuckerberg's Sue's Tech Kitchen pop-up event in New York City last year.
Future of 3D Food Printing
3D food printing companies are looking forward to a future where 3D printers are regular appliances when it comes to food production. Although both companies are currently in the professional culinary market, they are working towards developing a device for regular consumers. If this goal becomes a reality, it is likely that major food companies will invest in developing foods that compliment 3D printing technologies.
This article was originally posted on Xtalks.com
Latest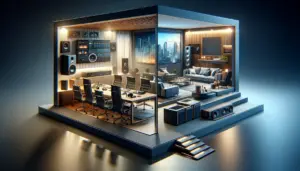 November 27, 2023
In this episode of "Pro AV Today," host Ben Thomas sits down with Audra Kinsley of Sonos Professional to unpack a topic that's causing (sound) waves in the audio industry: the fusion of commercial and residential audio systems. As we navigate through a landscape where consumer and professional audio worlds are increasingly intersecting, Sonos steps […]
Read More