Brands With Heart: Small Food Brands Score Big with 7-Eleven

Convenience store chain 7-Eleven recently completed its fourth Brands With Heart program, a competition among up-and-coming brands to earn a spot among the store's shelves. Not only is Brands With Heart a great way to stock the 7-Eleven shelves with a wider variety of products, but it paid tribute and drew attention to some great brands that are less well-known. The chain has its own private label brand for food and beverage, but still partners with brands across the country.
Jeff Lenard, VP of Strategic Industry Initiatives for the National Association of Convenience Stores, explains the "hybrid model" 7-Eleven subscribes to, and why it benefits convenience stores across the country.
Jeff's Thoughts
"What 7-11 in a lot of convenience retailers are doing with these types of programs are, thinking of it more like a hybrid between their own products when you have a private label and what they might have when they're working with traditional vendors, somewhat of a hybrid, where these are different types of brands that you may only be able to find in these stores.
The second point is looking at the sense of higher purpose and why does your beverage, why does your snack taste better than the competitions? When you tell that story around the sense of purpose, you're able to differentiate yourself, and that's something that we're increasingly seeing convenience retailers do to differentiate themselves in the competition because when you're in the convenience space and everyone is in the convenience space. You need to find a way to differentiate yourself. If the only other ways are based on location or based on price."
Latest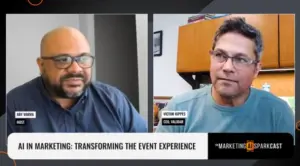 November 28, 2023
AI has been gradually changing the landscape of event technology at a very rapid pace. In an industry where staying ahead of technological trends is crucial, AI's impact on marketing and event management has become increasingly significant. As witnessed in the rise of account-based marketing and enhanced personalization, AI is effectively reshaping how events […]
Read More