Brewing Up A Downtown Revilitalization
After a quarter century as a lawyer, Greg McCarthy felt he had served his proper sentence. Looking to do something else with his career, the attorney left his practice in 2015 and co-founded a business in an industry that can sometimes cause run-ins with the law.
Legal Draft Beer Company is now in its third year operating out of Arlington, Texas after turning an abandoned car dealership into a taproom.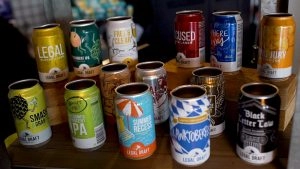 "I thought really, 'What do I want to do?' and looked at a few businesses to buy or to start and nothing really grabbed hold of me and it was about that time that I was really developing the interest in craft beer," McCarthy said. "I've been a wine guy and not really a collector or a serious connoisseur but just a casual wine lover who's really into that. I started to sort of see craft beer the same way."
Finding The Right Brewer
After visiting a handful of other craft breweries in the Dallas area, McCarthy believed he and his team could provide a similar if not better experience and jumped into the industry. In order to create the best local beer though, McCarthy had to go international.
He says the brewery owes its largest share of success to their master brewer, Henryk Orlik.
"Henryk's Bavarian born, Bavarian trained, and comes from that classic European lager background," McCarthy said.
Orlik's brewing background allowed Legal Draft to bring authentic, old world recipes to a new market.
"The blonde is a Helles Lager. It's probably the beer that Henryk drink from the time he was 10 years old with his family back in Germany," McCarthy said.
McCarthy and Orlik made their core set of offerings milder than most craft breweries to keep their customer base as wide as possible.
Creating Character Over Strength
"I guess really the best way to put that as an example is we think it would be unwise to devote 50 percent of our capacity to a really hoppy IPA," McCarthy said. "It might be a perfect thing for us to devote 4 or 5 percent of our production to a beer like that."
The ability for McCarthy to explain his vision to Orlik, who then puts into practice is what makes the German brewer such an asset to Legal Draft.
"I still remember drawing a pint of the IPA out of the fermentation tank after it was pretty much ready to put in kegs. I looked at it and smelled it and drank it, I thought, 'Good, gosh, Henryk just took my words put them in a glass.' It was really, really cool," McCarthy said.
Paying Homage To A Past Life
The product is supposed to keep customers coming back, but marketing was just as important to McCarthy and his team in growing their brewery's brand.
"With my background, we wanted to make the name of the brewery tell a story about the brewery itself and the people behind it. We went through three or four or five different concepts of what the brewery might be like," McCarthy said. "The most important thing [Creative Director] Lauren [Carter] did for us was that she wouldn't let me just pick out a name that we thought sounded cool."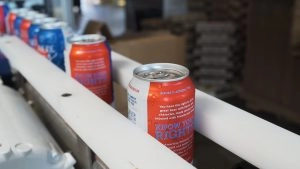 McCarthy said that subtleties like what the beer looks like in a pint glass and how the motifs and logos contribute to the theme and story behind the company were extremely important.
With beers named after legal terms, including a customer loyalty program named, 'Repeat Offenders' it is easy to see the connection to McCarthy's past.
"I think it really lends an authenticity to it and gives people a real cohesive awareness of brand and style and all that sort of thing that's instantly recognizable," he said.
Customer satisfaction may be McCarthy's top priority, but he sees the brewery as a major linchpin in the growth of downtown Arlington.
"I think it's fair to say without wanting to toot our horn too much, that we were the essential piece of gravity that this area needed," he said. "when we came in, it gave the owners of the building, the developers, a good reason, a commercially viable reason to fix the place up, add the windows, paint the building, redo the parking lots because they also own the buildings that surround this."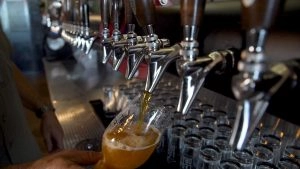 Revitalizing The Entertainment Capital Of Texas
Being a part of a downtown revitalization is a source of pride for the team at Legal Draft, but not everything can be accomplished near the brewery. Hops, a core ingredient to beer, are not commercially viable from farms in Texas, according to McCarthy.
He said that the company has hop contracts with a broker in Washington and that there is a market for individual or unique purchases, but that comes with a higher price usually. The hops are typically shipped to Legal Draft through the supply companies that it uses for its other ingredients.
More than helping stimulate the local economy, a unique partnership allows Legal Draft to help in other ways.
"We do have a local farmer who comes and picks up our spent grain, feeds it to his cattle and then brings us back the empty bins," McCarthy noted. "So, we have a little bit of a way of contributing to local farming and agriculture and the livestock around here. So that's a nice thing to have."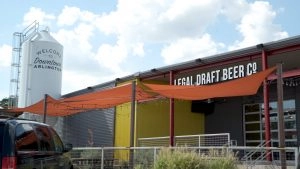 The Dallas-Fort Worth metroplex has seen a significant rise of craft breweries in recent years but McCarthy believes his is in a unique position to stick out among a sea of brews.
"What we've got is the opportunity to bring that sort of thing to Arlington, a town of 400,000 people that has two pro sports teams, a major amusement park and no breweries," he said. "We think that that's just not a good situation for Arlington. Arlington needs its own brewery."
For the latest news, videos, and podcasts in the Food & Beverage Industry, be sure to subscribe to our industry publication.
Follow us on social media for the latest updates in B2B!
Twitter – @FoodMKSL
Facebook – facebook.com/marketscale
LinkedIn – linkedin.com/company/marketscale
Latest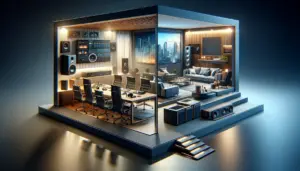 November 27, 2023
In this episode of "Pro AV Today," host Ben Thomas sits down with Audra Kinsley of Sonos Professional to unpack a topic that's causing (sound) waves in the audio industry: the fusion of commercial and residential audio systems. As we navigate through a landscape where consumer and professional audio worlds are increasingly intersecting, Sonos steps […]
Read More