Business Casual: Did Millennials Kill MillerCoors?
Molson Coors announced a massive restructure that will effectively kill the MillerCoors brand. As a result, the company will be terminating between 400 and 500 salaried positions.
One article stated that the reasoning behind this was that millennials are consuming less beer. One our hosts, Tyler Kern, took exception to this explanation and let his feelings be known in this snippet from Business Casual.
Tune in to MarketScale Radio LIVE every Wednesday and Friday morning at 9 a.m. CT for Business Casual with Tyler Kern and Daniel Litwin. From interest rates to esports – we'll be talking all things B2B.
Latest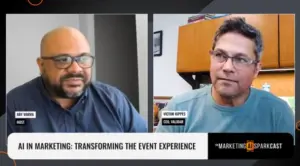 November 28, 2023
AI has been gradually changing the landscape of event technology at a very rapid pace. In an industry where staying ahead of technological trends is crucial, AI's impact on marketing and event management has become increasingly significant. As witnessed in the rise of account-based marketing and enhanced personalization, AI is effectively reshaping how events […]
Read More