DEERLAND ENZYMES & PROBIOTICS TO FEATURE BRANDED FUNCTIONAL INGREDIENTS AT IFT 2018 IN CHICAGO
As a supplier of science-backed ingredients for good health, the Deerland Enzymes & Probiotics team could not be more excited to exhibit at IFT 2018. The Institute of Food Technologists' annual Expo attracts more than 23,000 attendees from over 90 countries across the globe. One of the largest events of its kind, IFT 2018 will welcome food science professionals representing the research and design areas of the industry, as well as ingredients manufacturers, suppliers and buyers, policymakers, and academics. These dedicated food leaders are able to come together to inspire and transform their knowledge and ideas into innovative solutions, helping advance our planet's food safety, nutrition, and sustainability. Deerland is proud to stand among them!
Visit the Deerland booth at McCormick Place, July 16 – 18 in Chicago, where we'll feature our suite of branded and clinically supported nutraceutical ingredients for functional foods and beverages. Here's a preview of what you'll find at booth #N6926:
Probiotic strain DE111®: Bacillus subtilis DE111 offers benefits for products aimed at digestive health, immune health, sports nutrition and pets. Because DE111 remains viable under a wide temperature and pH range, the probiotic is ideal for use in foods and beverages.
Enzyme blend ProHydrolase®: ProHydrolase is a protein-digesting enzyme blend designed to build muscle mass and accelerate muscle recovery when used as an ingredient in protein supplements or meal replacements.
Solarplast®: Antioxidant superfood Solarplast is an extract of organic dark leafy greens, which is enzymatically enhanced by a unique and proprietary manufacturing process. It harnesses the power of the chloroplasts found in leafy greens to provide a rich source of molecular chaperones and antioxidants, all in a naturally occurring lipid protective coating.
Read more at deerlandenzymes.com
Latest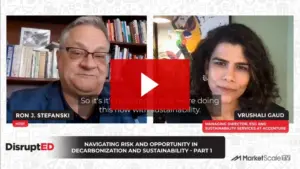 September 26, 2023
The global conversation has shifted dramatically towards decarbonization and sustainability in recent years. With the world experiencing unprecedented levels of disruption, from 5G technology to the challenges of a pandemic, the urgency to address climate change and its implications has never been more palpable. Although most business leaders see the vision of Sustainable Development […]
Read More