Discovering the Possibilities of Table Service at Quick Service Restaurants
Table service is an innovative and powerful way to optimize the kiosk environment and create a profitable ecosystem for foodservice and quick-service restaurant (QSR) operations.
But what exactly is table service, and what are some best practices for putting it to work for your operation? Let's take a look.
What Is Table Service?
Chances are, you've already seen table service in action.
Essentially, table service refers to providing diners with the ability to order from a kiosk or with a crew member at the counter, then sit down and be served directly at their table. This streamlines the overall experience and provides elevated convenience for customers.
These self-ordering kiosks can be leveraged in other areas of QSR operations to provide flexibility in placing to-go orders and more. Together, kiosks and table service solutions bring a wide range of benefits to the overall foodservice operation.
The Benefits of Adding Table Service to QSR Operations
When restaurants choose to leverage table service, the benefits are immediate and noticeable. They include:
Customer Satisfaction
Table service eliminates the need for standing in line at pickup areas and shortens perceived wait times. Further, it's more family and group-friendly, cutting back on the need to wander around restaurants with loaded trays.
Speed of Operation
Table service engineers a better working environment for crews by eliminating the stress associated with crowds at pickup areas and other interruptions, improving overall well-being. Particularly when kiosks are installed, counter crowding is reduced, enhancing both the customer and staff experience.
Boosted Revenue
With queueing a thing of the past, operations can leverage higher guest counts, providing both higher revenue and a more relaxed experience. Customers are also likely to be more loyal, further boosting the bottom line, and productivity increases will follow the sense of well-being among crew members.
Ease of Installation
Industry-leading table service and kiosk solutions require minimal installation that's quick and efficient, taking only a few hours to be put in place. Crew training is minimal, helping restaurants get up and running with table service faster, and maintenance is simplified to promote ease of use and uptime.
The benefits are clear. Compared to operations with no technology, table service solutions averaged 20 seconds gained on service time. They also provide a six-month return on investment and exhibit a bump in overall revenue of more than 5%.
Table Service's Role in the Future of Foodservice
Acrelec's Table Service V1 has been deployed in over 40 countries, and it's time for that success to become even more scalable.
Acrelec's innovative Table Service V2 will offer premium service through wireless Bluetooth Low Energy capabilities, providing an even more seamless experience. Diners will receive a flag when an order is placed that scans for BLE signals from nearby beacons, which are placed under strategically chosen tables.
Geolocation service shows the positions of all active flags, allowing crew members to serve guests a frictionless experience.
Table Service V2 is available for indoor or outdoor use, can accommodate intricate restaurant layouts, and allows for customization of the flags given to customers, providing unmatched flexibility to back its robust technological capabilities.
Available in three different options, there's a TSS solution that's ideal for your unique operation – and they're all built to last with easy installation, robust construction and IPX4-rated materials, and battery life of four to five years.
To learn more about how Acrelec is innovating ways to help you elevate the dining experience – and your overall operation – click here.
Latest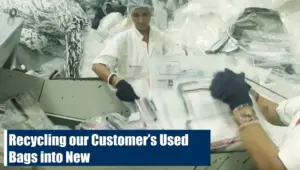 December 6, 2023
This video focuses on EcoLOK4, a groundbreaking product by CONTROLTEK that exemplifies innovation in sustainability. It highlights the process of transforming landfill waste into new deposit bags, with 90% of each bag's material being repurposed trash. This initiative not only reduces waste but also closes the sustainability loop, demonstrating CONTROLTEK's commitment to environmentally friendly […]
Read More