Drones and Meatless Burgers Abroad: This Week in B2B
This week marked a milestone in drone delivery. The first FAA approved long-distance drone flight using neither a ground-based radar or human visual observer took place in Kansas.
Iris automation's on-board collision avoidance system performed better than a human-controlled drone 95-percent of the time during testing.
This could be a major breakthrough for companies looking to deliver products via drone, and it's something we spoke about on the latest business casual radio show, so go check that out.
Burger King is shipping its meatless burger to consumers in Europe.
Burger King's parent company announce on Monday its plans to launch the meatless menu item in more than 20 European markets.
In the U.S., Burger King partners with Impossible Foods for its alternative meat option, but across the pond it will be working with a Unilever-owned company called the vegetarian butcher.
The Impossible Whopper helped the fast food chain's same store sales increase by 5.5 percent in the third quarter, it's largest quarterly jump in four years.
And last but certainly not least, it was Veterans Day on Monday.
Earlier this week we caught up with a Navy veteran who is giving back to her community through her business.
Check out our story on Beth Bechtel, founder of Bear Island Brewing in Boise, Idaho on our food and beverage page today to learn more.
Latest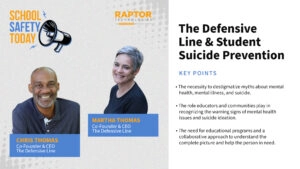 September 22, 2023
Student suicide prevention is a paramount concern among mental health providers. For one organization, student suicide prevention is more than a concern: it's their mission. The alarming rise in mental health crises among youth has become a pressing concern in recent times. With the complexities of modern life and the challenges of the digital […]
Read More